You are here:
Vänskä presents her new book "Fashionable Childhood" in London
Vänskä presents her new book "Fashionable Childhood" in London
Annamari Vänskä, researcher at Stockholm University, released a new book "Muodikas lapsuus" (Fashionable Childhood) on children, fashion and fashion advertising on September 6, 2012. The book received immediatelly lots of publicity in Finnish newspapers, radio and television.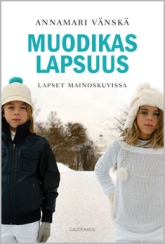 Fashionable Childhood © GAUDEAMUS Helsinki University Press
Annamari Vänskä is currently a Visiting Research Fellow at Central Saint Martins, University of the Arts London, where she will be giving a guest lecture on October 2, 2012, entitled

Fashionable childhood - Children in Fashion advertising (739 Kb) .
-Children's clothes and representations of children raise strong emotions in adults. Many have clear ideas of what kind of clothes are suitable for children and which expose them to abuse, Annamari Vänskä says.
According to her our culture is defined by a potent dichotomy, where children on the one hand are being treated as small costumers by the fashion industry and on the other hand are seen as childlike and innocent.
Annamari Vänskä, PhD is a scholar of visual culture, who works as a Post Doctoral Research Fellow at the Centre for Fashion Studies at Stockholm University, in Sweden.
Svante Emanuelli