Right-Wing Populism and the Normalization of Racism
EVENEMANG
Datum:
04 april 2019 10:00
-
04 april 2019 12:00
Plats:
Bangsalen
Welcome to the JMK Higher Seminar with Bonnier professor Michal Krzyzanowski on April 4, 10:00-12:00 in Bangsalen. In his talk he will address Right-Wing Populism and the Normalization of Racism.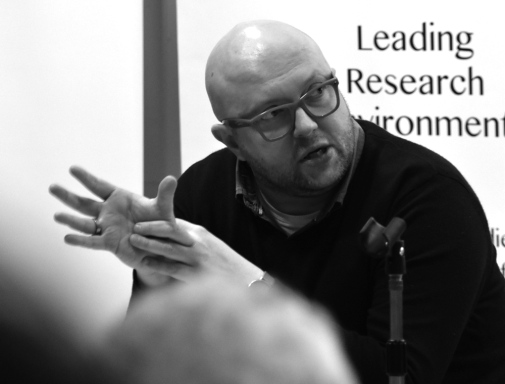 Right-Wing Populism and the Normalization of Racism: Discursive Shifts in Mediatisation and Politicisation of Immigration
My presentation highlights strategies of normalization (Krzyżanowski 2020a, 2020b) seen as discursive processes of legitimizing views, ideologies and positions that, although traditionally treated as radical and politically/socially unacceptable, increasingly become accepted within the widespread norms of public expression.

I draw, inter alia, on the concept of normalization as originally used in social-psychological studies (Vaughan 1996) as well as in critical social research on discursive channeling of extreme positions into elements of acceptable social status quo (Link 2013, Wodak 2015). Empirically, my presentation explores dynamics of political discourses on the recent 'Refugee Crisis' in Europe (Krzyżanowski 2018a & 2018b; Krzyżanowski, Triandafyllidou & Wodak 2018).

It draws on my long-term work on the anti-immigration discourse of European right-wing populist parties (Krzyżanowski & Wodak 2009; Krzyżanowski 2012; Wodak & Krzyżanowski 2017) and online uncivil society (Krzyżanowski & Ledin 2017) as well as on discursive media responses to ideological projects of right-wing populism (Krzyżanowski 2019).

The presentation provides a critical-analytical look at the case of Poland where the right-wing populist imaginaries of the 'Refugee Crisis' have acted as carriers of the unprecedented discourses of racism and hate since 2015. As I show, the strategic and opportunistic introduction of anti-immigration rhetoric in/by the political mainstream in Poland in recent years has contributed to the widespread dissemination and acceptance of discriminatory views.

Through the presentation, I intend to show that normalization is part and parcel of a wider multistep process of strategically orchestrated discursive shifts (Krzyżanowski 2013, 2018a) wherein discourses characterised by extreme positions – such as e.g. racism, discrimination and hate – are being enacted, perpetuated and eventually normalised as part and parcel of pronounced right-wing populist strategies.

In the said process, normalization also entails creation of a new form of borderline discourse (Krzyżanowski and Ledin 2017) where civil, rational and politically-correct language is increasingly used to pre-legitimise (Krzyżanowski 2014, 2016) uncivil, radical and extremist positions and ideologies as part of discursive strategies that aim to make them look as rational and acceptable elements of the effectively exclusionary and nativist 'common sense'.

Download the full pdf about his talk, including references. (41 Kb)
Bio
Michał Krzyżanowski holds since 2013 the Chair in Media and Communication Studies at Örebro University, Sweden and since 2017 the Chair in Communication & Media at the University of Liverpool, UK.

In 2018-19 he is also Albert Bonnier Jr. Guest Professor in Media Studies at the Department of Media Studies, Stockholm University, Sweden. Michał Krzyżanowski is one of the leading international experts in critical discourse studies of media and political communication. His key research interests are in dynamics of right-wing populist discourse, mediation and normalisation of racism and politics of exclusion as well as in diachronic analyses of constructions of crisis in European and global media.
He is the Editor-in-Chief of the international Journal of Language and Politics and a co-editor of the Bloomsbury Advances in Critical Discourse Studies book series.

Find out more about Michał Krzyżanowski on the Örebro University or the University of Liverpool websites. Michal Krzyzanowski will also give a public lecture on March 27, 2019.
Senast uppdaterad: 31 januari 2019
Webbredaktör: Svante Emanuelli
Sidansvarig: IMS