The photojournalism of 'superfluous people': Responsibility, mediation and power
Lilie Chouliaraki, Guest Professor at Stockholm University's Department of Media Studies, gave a Higher Seminar on April 4, 2016. Organized and sponsored by the Leading Research Environment "Global Media Studies and the Politics of Mediated Communication" (Director: Miyase Christensen), the event addressed the issue of responsibility in the photojournalistic representation of refugees in the British public sphere.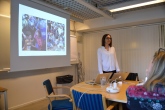 In the Higher Seminar, Lilie Chouliaraki introduced her ongoing work on the theorization of responsibility in connection with the photojournalistic representation of refugees in the UK news media. The lecture addressed two central concerns: How is the claim to responsibility for refugees being communicated in the different public spheres constitutive of Europe? And how do the media frame the plight of refugees through photojournalism?
Based on a typology of representations according to the forms of refugee vulnerability depicted in photojournalistic images –as bare life, as pity, as hospitality and as self-reflexivity- Chouliaraki discussed the types of responsibility that may ensue among publics. The typology was created with data gathered in 2015 in the wider context of the research project "The European migration crisis and the media". The project was launched by the London School of Economics and Political Science's Department of Media and Communications to chart the treatment of the crisis in European media and consider the future of the ideal of 'hospitality' in the region.
Text by: Florencia Enghel
Senast uppdaterad: 25 april 2016
Webbredaktör: Martin Åkerblom
Sidansvarig: IMS