Highlights from Global Media Café "Migration in Times of Crisis"
A new Global Media Café took place at Stockholm University's Department of Media Studies on January 28, 2016. Organized and sponsored by the Leading Research Environment "Global Media Studies and the Politics of Mediated Communication". The event brought together a panel of scholars and a roundtable of civil servants and journalists to discuss the problem of migration in times of crisis.
Director: Miyase Christensen.
Over the past decades, political and socioeconomic turmoil and environmental degradation in the Middle East and Africa have led to an increase in human mobility across national and regional borders. Against this backdrop, participants in the Global Media Café reflected on three specific dimensions of societal responses to the arrival of refugees in Europe in general, and in Sweden in particular: 1) the tensions between a humanitarian welcome and a conservative rejection across national territories and the European space; 2) political positionings and democratic deficits; and 3) the role of the news media and of alternative communication outlets.
The panel, chaired by Professor Kristina Riegert, tackled these issues based on a variety of research approaches and theoretical considerations. Associate Professor Anna Rosvall called attention to the prevailing patterns followed by news media coverage when reporting about migration, and raised the question of how the frequent association between immigration, poverty and crime might affect public understanding. Professor Alexa Robertson focused on what she termed 'good journalism', noting that journalists take opportunities to help audiences imagine how to engage with distant others by providing a common political and moral language that problematizes the restrictions imposed by world borders.
Professor Christian Christensen drew on the expression "mental empty spaces", coined by Dubravka Ugrešić, to consider how the combination of predominant stereotypes about Muslim populations and de-contextualized news coverage about Islam fosters misunderstandings. Associate Professor Ester Pollack highlighted shifts in the coverage of Roma people in Swedish newspapers between 1995 and 2014, inviting reflection on the role of their naming in the media over time -Gypsies, Roma, beggars, EU migrants. To conclude the panel, Professor Miyase Christensen considered how four dimensions of the idea of cosmopolitanism -as a vision, as a legal space, as a sentiment and as media space- constitute keys aspects in understanding society's reaction to trans-border mobility and its representation in the media.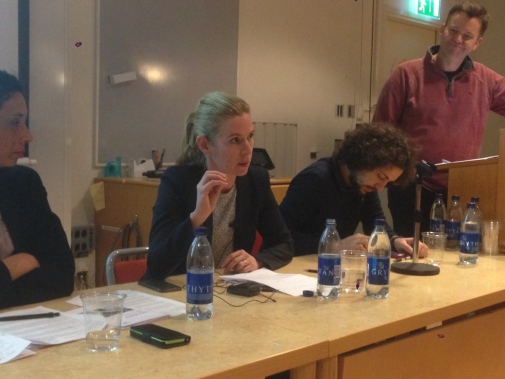 The roundtable, facilitated by Christian Christensen, discussed the issues in question from the perspective of journalistic and governmental practice. Karin Pettersson, politisk chefredaktör at "Aftonbladet", reflected on how the scale and focus of news coverage in Sweden changed between August and November 2015, from an international/European story to a national one. While solidarity was the initial concern, an increasing preoccupation with lack of infrastructure followed, to the point where the central question became "How much can Sweden take?".
Pettersson also noted that alternative media have become a new major player in the communicative scenario, targeting journalists through a strong "hate machine" that seeks to influence public debate. Mikael Ribbenvik, ställföreträdande generaldirektör and operativ chef at Migrationsverket, called attention to the fact that current news coverage tends to focus on numbers instead of talking about people, and raised a thought-provoking question about the locus of the crisis: is it where the migrants come from, or is within Europe? Characterizing the movement of people across borders as a mega-trend requiring coordinated international action, Ribbenvik called for a World Migration Organization equipped to consider the problem from an overall perspective.
Karen Austin, demokratistrateg at Stadsledningskontoret, Kansliet för mänskliga rättigheter och demokratiutveckling, referred to the challenges faced by young men who have fled their homelands when adapting to a new context and highlighted the importance of belonging to a group in this process. Ibrahim Mouhanna, a journalist and documentary-maker from Syria who currently lives in Sweden, spoke of experiencing a loss of faith in the power of the media to counteract negative sentiments against refugees. Presentations were followed by a lively debate involving the audience and the panelists and roundtable speakers. Questions and comments touched upon the complexity of the issue, the implications of a lack of European solidarity, and the extent to which news media have the power to set the agenda and steer public debate on these matters.
Text by: Flor Enghel
Read more: leadingresearch.se
Senast uppdaterad: 9 februari 2016
Webbredaktör: Martin Åkerblom
Sidansvarig: IMS