No Country for (Women) Journalists | Public Lecture
Den 26 september 2018 gav LRE gästprofessor Shakuntala Rao en allmän föreläsning på Stockholms universitet om den svåra situationen för kvinnliga journalister i Indien. Här kan du läsa om temat för föreläsningen och Raos akademiska bakgrund (på engelska).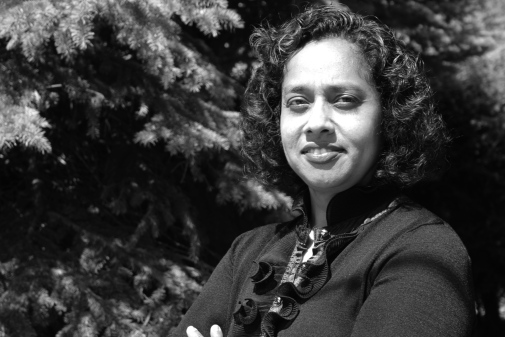 No Country for (Women) Journalists: Lives of women covering politics and sexual violence in Indian media
The privatization and liberalization policies adopted by the Indian state beginning in 1991 have dramatically changed the country's media landscape. India now boasts of the second-largest media market in the world. It has approximately 82,000 daily newspapers published in 16 different languages and 800 television channels including 400 dedicated news networks, making it home to the world's most competitive news arena. The expansion of news media has given many opportunities for women to enter the profession. The "macho newsroom" culture, prevalent in the 1970s and 1980s, has changed into one where more women are frequently hired at entry-level positions. Such demographic changes in the workforce, however, have not been without serious societal, cultural and political implications for women journalists especially those who chose to cover politics. In this talk, I will speak to the daily lives of both rural and urban women journalists and the kind of challenges they face. I will specifically speak to the life of my friend and colleague, Gauri Lankesh, who was assassinated on September 5th, 2017, by a group of Hindu fundamentalist. Such assassinations, now on the rise, will be discussed within the larger context of the rise in India of religious nationalism, populism, and anti-mainstream news media sentiments.

Rao's public lecture "No Country for (Women) Journalists" is part of the LRE's public seminar series Global Media Café (GMC). Organized by the Leading Research Environment in Global Media Studies and Politics of Mediated Communication, Department of Media Studies, Stockholm University.

Biography
​Shakuntala Rao is not only professor at the Department of Communication Studies, State University of New York, Plattsburgh, USA but also Guest Professor at the Department of Media Studies – Hosted by the Leading Research Environment in Global Media Studies and Politics of Mediated Communication.

She received her Ph.D. in Communication from University of Massachusetts, Amherst, USA, M.A. in Communication Studies from Pennsylvania State University, USA, and a B.A. (honors) in Philosophy from Miranda House College, University of Delhi, India. Her teaching and research interests are in global media, journalism practices, media ethics, and popular culture. Dr. Rao has published extensively and influentially in a number of communication and interdisciplinary journals. She is the editor of four books including the most recent one titled, "Indian Journalism in a New Era: Changes, Challenges, and Perspectives" published by Oxford University Press. Dr. Rao has been a Senior Fulbright scholar to India, a visiting fellow at the School of Communication and Journalism/Brookings Institute at Tsinghua University (Beijing), and a fellow at the Stellenbosch Institute of Advanced Studies at Stellenbosch University (South Africa). Dr. Rao has worked for local political candidates, with grassroots media and civil society organizations, and trained journalists in India, Pakistan, Sri Lanka, Bangladesh, South Africa, and Kazakhstan. She is the recipient of the State University New York Chancellor's award for excellence in scholarship.
Senast uppdaterad: 27 september 2018
Webbredaktör: Svante Emanuelli
Sidansvarig: IMS