Media Matter: Media-Archaeological Research and Artistic Practice
Read our full report from the international conference 'Media Matter: Media-Archaeological Research and Artistic Practice' in Stockholm on November 27-29, 2019. Written by Doron Galili, research fellow, and John Fullerton, professor emeritus.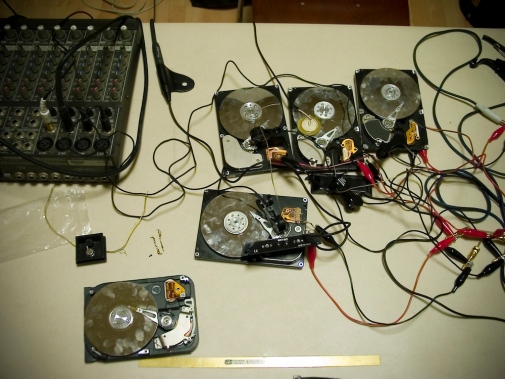 The field of media archeology has drawn a great deal of attention in various areas of media theory during the recent years. In studies of media historiography, contemporary digital culture, media art, and electronic literature, new questions about media materiality came to the forefront, shifting scholarly attention from "messages," narratives, or contents to the mechanisms of mediation, obsolete and forgotten material relics, and alternative modes of production of the past.
Read more: Domitor: Early Cinema, from Provenance to Media Archaeology: Notes from the Media Matter Conference
A three-day conference, hosted in November 2019 by the Department of Media Studies and the Department of Culture and Aesthetics took as its goal to explore the relations between media archaeological research and artistic practice. Showcasing three keynote speakers and twenty-five papers presented by researchers and artists from Australia, Austria, Belgium, Canada, Germany, Hong Kong, Italy, Netherlands, South Korea, Sweden, Switzerland, the UK and the United States, the conference engaged with the history and aesthetics of a range of media materialities - from ancient forms of inscription and comic books to neural networks imaging and salt minerals.
The distinguished keynote speakers, in turn, illuminated different methodological aspects of media archaeological research. Trinh T. Minh-ha (University of California, Berkeley), an internationally recognized writer on postcolonial feminist theory as well as maker of eight feature-length films, spoke about the self-reflective relation of media to ethnographic film- and video-making, thereby putting forth the importance of thinking politically about media archaeological practices. Wolfgang Ernst (Humboldt University, Berlin), dedicated his keynote to making a case for radical media archaeology, arguing that a non-historicist interpretive method provides an agency for investigating the materiality of media artefacts in a manner that is fundamentally separated from the human aspect. Erkki Huhtamo (University of California, Los Angeles), finally, provided in his keynote an overview of cultural theorists and historians who have informed his media-archaeological thinking, emphasizing – by contrast to Ernst's approach – the need to excavate and explain the cultural histories that shape the often-cyclical trajectories of what he dubs "media topoi."
Alongside the scholarly presentations, the conference included a night of media-archaeological artistic performances. Hosted by Stockholm's artist-run experimental art and music center Fylkingen, the event included screenings of video art works by Lina Selander and Oscar Mangione and by Joel Danielsson and Louise Öhman, and a sound installation by Ola Nilsson. It concluded with an inspiring concert of Seoul-based experimental musician and improviser Jin Sangtae, who made use of computer hard-drives as his principle acoustic instrument. According to Fylkingen producer, musician, and media archaeologist Jacek Smolicki, "The collaboration on the artistic event accompanying the conference was not only a great opportunity to showcase selected artists from the Fylkingen community who work in a similar field, but also to establish contacts with Stockholm University… By connecting with diverse research institutes, including schools and universities, [Fylkingen's] idea is to shed light on the relevance of artistic practice, open it up to be perceived as a specific form of research which can productively inform ongoing work in other than artistic areas of research and scholarship."
Taken together, the scholarly and artistic contributions vividly demonstrated that whereas the methodological contours of media archaeology are still debated, it is a rich and challenging field of study that opens new possibilities for media research across disciplines. As head of the Department of Media Studies, John Sundholm has put it, "The Media Matter conference was a convincing demonstration of the diversity and creativity of the field. It is seldom that a conference manages to bring together such a truly international body of scholars with diverging takes and opinions about the subject. In this way the dynamics is fostered, which of course should be the objective behind every research field. I still do not know what media archeology is, but I got many great examples of what it can be and what it can do."
Doron Galili, research fellow
John Fullerton, professor emeritus
– Stockholm University
Organizing Committee
Doron Galili
Thomas Götselius
Christer Johansson
Trond Lundemo
Jörgen Skågeby
Senast uppdaterad: 17 februari 2020
Webbredaktör: Svante Emanuelli
Sidansvarig: IMS