Program: Producing Image Activism after the Arab Uprisings
Between September 6-8, 2017 Stockholm University hosts a symposium that aims to explore the different facets of a growing global activist image industry with a particular focus on the Arab world. The workshop brings together theorists and practitioners to highlight the diversity of critical and theoretical perspectives. The workshop will focus on justice, journalism, documentary film, and art as overlapping sectors of the activist media ecology, each of which produces different kinds of public concern in regard to image activism in the Middle East.
How do I get here? (map)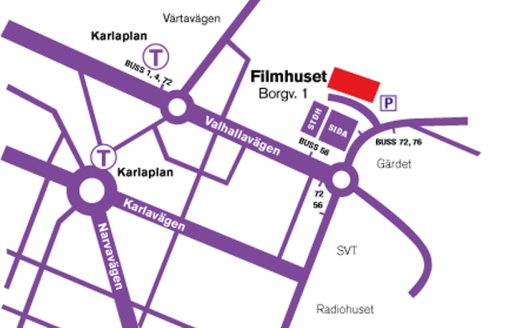 The symposium will be held in Stockholm between 6-8 September, 2017 in the auditorium Bio Mauritz in the Film House. Here you can find a map and a description of how to get here.

DAY 1: September 6
18.00 – 19.00 Welcome mingle with refreshments
19.00 – 20.30 SCREENING
Houses without doors (2016; 90 min) Avo Kaprealian
DAY 2: September 7
9.00 – 9.30 Registration and coffee
9.30 – 10.00 Welcome. Professor John Sundholm, Head of Department of Media Studies, Stockholm University.
Kari Andén-Papadopoulos, Stockholm University: "Introduction: Producing Image activism after the Arab uprisings."
10.00 – 10.15 Short break

10.15 – 12.15 PANEL 1: Image Activism and journalism
Chair: Kari Andén-Papadopoulos, Stockholm University
Tom Keenan, Bard College: "Operational Images of Migration: Maps, Social Media, and 'Self-smuggling'"
Amahl Bishara, Tufts University: "Image Activism Across the Green Line: Elucidating the Limits of Solidarity in Palestine."
Safa Al Ahmad, journalist and filmmaker: "Non-Violence and Violence: The changing discourse in Saudi Arabia."
Peadar Grogan, Storyful: "Video Verification in Journalism: Building a Body of Evidence to Support Activist Reports."
12.15 – 13.30: LUNCH

13.30 – 15.30 PANEL 2: Image Activism and filmmaking
Chair: Malin Wahlberg, Stockholm University
Cécile Boëx, EHESS: "Beyond activism : vernacular video as experience and memory in the context of the Syrian conflict".
Ali Atassi, Bidayyat: "Syrian images across documentation, art, and spectacle."
Dork Zabunyan, Paris 8 University: "Images as forces: the life of uprisings after their supposed betrayal."
Sara Ishaq, filmmaker:"The role of the Yemeni revolution on the emergence of filmmaking in Yemen."
15.30 – 16.00 Coffee break
16.00 – 17.30 SCREENING
The Mulberry House (2013; 65 min) Sara Ishaq
DAY 3: September 8
9.30 – 10.00 Coffee
10.00 – 12.00 PANEL 3: Image Activism and artistic practice
Chair: Karin Becker, Stockholm University

Lara Baladi, multidisciplinary artist: "Archiving as an Act of Resistance."
Heba Amin, visual artist: "The General's Stork."
Anthony Downey, Birmingham City University: "The Future of Image Production: Hermeneutic Suspicions and Neoliberal Conundrums."
Ala'a Shehabi, writer and economist: "Road blocks, images and territorialisation in the Bahraini uprising."
Sarah Rifky, writer and curator: "Escaping Activism: An Account of Images and Struggle."
12.00 – 13.30 LUNCH
13.30 – 15.30 PANEL 4: Image Activism and justice
Chair: Dima Saber, Birmingham City University
Raja Althaibani, WITNESS: "Using Video's Strengths and Limitations for Advocacy (The MENA Experience)."
Bilal Tamimi, videographer: "An unknown small Palestinian village became famous in the popular resistance."
Jeff Deutch, the Syrian Archive: "Collect, Curate, Investigate: Using open-source big-data
methodologies for human rights monitoring in Syria."
Hagit Keysar, the Public Lab: "The DIY Testimony: Negotiating the Public Field of Aerial Vision."
15.30 – 16.00 Coffee break
16.00 – 17.00 CONCLUDING SESSION
Chair: Kari Andén-Papadopoulos, Stockholm University
Marwan Kraidy, Annenberg School, University of Pennsylvania: Keynote Discussant
Senast uppdaterad: 11 september 2017
Webbredaktör: Svante Emanuelli
Sidansvarig: IMS