Precariousness as a performative social practice | Higher Seminar in Fashion Studies
EVENEMANG
Datum:
11 november 2019 15:00
-
11 november 2019 17:00
Plats:
Seminar Room Wilson, Fashion Studies, Filmhuset, Borgvägen 1-5, Stockholm
Welcome to the Higher Seminar in Fashion Studies with guest professor Silvia Gherardi, University of Trento, ITALY, that will give a talk about the "Precariousness as a performative social practice: the Serpica Naro catwalk during Milan Fashion Week".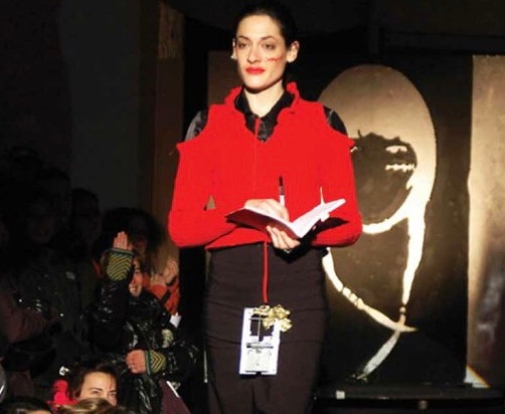 In the seminar, professor Silvia Gherardi, will illustrate how the process of work precarisation and the collective resistance of precarious workers may be read as a social practice of affective capitalism. Through the analysis of the Serpica Naro catwalk, organised in the area of Milan by the activists of the May Day Parade and the San Precario network, she will focus on the process of construction of a performative collective identity that uses irony and playfulness to resist and denounce precarious working conditions. The purpose is to interpret the anti-precariousness movement as a process of critical urban learning that creates the viability of spaces for resistance in metropolitan contexts.
Organizers: The seminar is jointly organised by Fashion Studies, The Department of Media Studies (IMS), and Management Studies, SBS, at Stockholm University.
This is Silvia Gherardi
Professor Gherardi is one of the founders and currently the responsible of the research unit RUCOLA (Research Unit on Communication, Organizational Learning, and Aesthetics) at the University of Trento in Italy. She has carried out a large number of researches and realized publications on the themes that have become the central object of the research unit RUCOLA studies. She is present from several years in the principal international networks of organizational studies and she is a board member of various international journals. She has been president of the European Group for Organizational Studies (1997-2000) and took part in the scientific committee of the Associazione Italiana di Sociologia-ELO (1993-1996). Currently she is also Guest Professor at Mälardalens högskola.
Senast uppdaterad: 11 oktober 2019
Webbredaktör: Svante Emanuelli
Sidansvarig: IMS