Disputation: Oscar Night in Hollywood
EVENEMANG
Datum:
01 mars 2018 10:00
-
01 mars 2018 12:00
Plats:
F-salen, Filmhuset, Borgvägen 1 – 5, Stockholm
Welcome to PhD student Elizabeth Castaldo Lundén's disputation "Oscar Night in Hollywood: Fashioning the Red-Carpet From the Roosevelt Hotel to International Media" on March 1 in Filmhuset. FREE ADMISSION.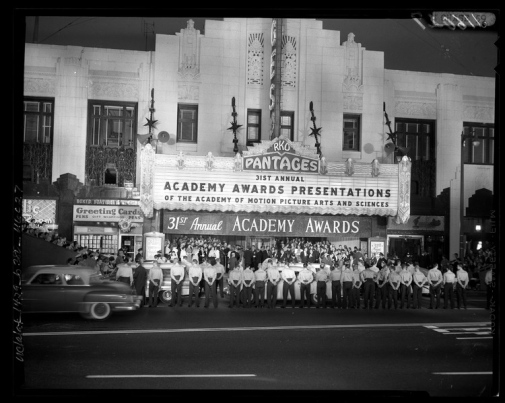 This study investigates the red-carpet phenomenon from a historical perspective, seeking to understand how the Academy Awards' red-carpet became the most prominent fashion show in media culture. The connections between Hollywood and the fashion industry predate the inception of the ceremony, and so does the role of Hollywood actresses as trendsetters. However, this pseudo-event epitomizes precisely this liaison. This research focuses on several historical constellations to account for the influence of media shifts, the public relations dynamics of the event, the changes in the fashion and film industries, and the role of key players in the dissemination of fashion discourses in relation to Hollywood. By delving into archival sources, and tracing discourses of fashion, stardom, and celebrity surrounding Hollywood and the Oscars, this dissertation shows how the red-carpet gained such status, functioning today as a marquee for celebrity endorsement of high-end fashion brands.

Further details (in Swedish):
Mer om disputationsprovet för avläggande av doktorsexamen i modevetenskap
Fakultetsopponent
Professor Mary Desjardins, Dartmouth College

Betygsnämndsledamöter
Professor Miyase Christensen, Stockholms universitet
Professor Jacob Östberg, Stockholms universitet
Professor Pamela Church Gibson, London College of Fashion
Suppleant: Professor Donald Crafton, University of Notre Dame.
Ordförande
Professor Maaret Koskinen, Stockholms universitet.
Handledare
Professor Jan Olsson som även kommer att närvara vid överläggningarna.
Photo: Crowd lining street under the marquee of the Pantages Theater at the 31st Academy Awards in 1959. Source: Los Angeles Times Photographic Archive , UCLA Library. Copyright Regents of the University of California, UCLA Library. The work is licensed under a Creative Commons Attribution 4.0 International License

Visit our Event Calendar and Facebook event page
For further details please visit events.ims.su.se and event page on Facebook.
Senast uppdaterad: 5 februari 2018
Webbredaktör: Svante Emanuelli
Sidansvarig: IMS