Climate Witness Project: Observations of a Changing Climate
EVENEMANG
Datum:
11 mars 2020 15:00
-
11 mars 2020 17:00
Plats:
JMK-salen
On March 11 Florida State University professor Andrew Opel, is to give a public lecture at the Department of Media Studies on 'Climate Witness Project: Observations of a Changing Climate'. FREE ADMISSION.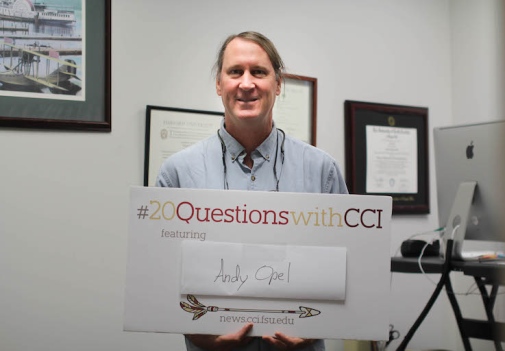 This talk details the philosophies and strategies behind The Climate Witness Project (CWP), a one-year project based in Media City at the University of Bergen in Bergen, Norway. Supported by a Fulbright Scholarship, Opel and a small group of faculty and students are tapping the power of storytelling and immersive media to communicate the science of climate change.
Witnessing has a long tradition within the Quaker community and has been a tool for confronting crisis and trauma - from war to natural disaster. The human rights organization Witness, begun in 1992 and using the slogan, "See it, Film it, Change it" connected the power of citizen generated media with crimes against humanity and now provides a set of tools to assist citizen journalists in the using video to document human rights crimes. This project taps the power of environmental witnessing and applies that power to a changing climate.
Talking with people who work in outdoor professions – farmers, fishermen, glacier tour guides, train line workers, and more, The CWP is creating traditional video as well as immersive, 360 video pieces that bring viewers into the spaces where climate change is visible, allowing them to see the changes and hear from the witnesses, from the perspective of a witness. The collection of shorts is being produced in the arctic and sub-arctic regions of Scandinavia because this region is experiencing some of the most extreme effects of a changing climate with particular areas averaging a 20-degree Celsius increase in temperatures.
Drawing on the work of Paul Slovak who argues, "In the past two decades, cognitive science has increasingly come to understand that we, as a species, think best when we allow numbers and nerves, abstract information and experiential discourse, to work together" (Slovac, P. 2015), this project will combine personal testimony with data trends to create persuasive, immersive messaging about climate change. The CWP is connecting the anecdotal observation, the climate data trends, and immersive media technology to offer audiences new vantage points from which to experience the impacts of climate change. The power of witness testimonial combined with the first-person perspective of 360 video presents new possibilities and challenges to what Climate Outreach has identified as the seven principles of climate change communication. This paper will present the theoretical and historical roots of the CWP as well as highlights of the work and samples of the project media.
BIO
Andy Opel, Ph.D. is a Professor in the School of Communication at Florida State University. For the 2019/20 academic year, he is leading the Climate Witness Project as a Fulbright Scholar at the University of Bergen. He has taught documentary production at FSU for almost 20 years and led the teaching and integration of stereo media production and immersive media in the Digital Media Production Program. Opel works at the intersection of environmental communication and documentary production, resulting in a range of work from award-winning PBS films to shorts to scholarly books and articles. Read more on his personal website.
Senast uppdaterad: 15 januari 2020
Webbredaktör: Svante Emanuelli
Sidansvarig: IMS