Patrik Steorn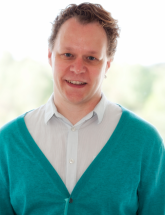 Patrik Steorn. Photo: Bart van der Gaag
Patrik Steorn works as a Researcher and a Senior Lecturer at the Centre for Fashion Studies, teaching in the courses Mode, makt och män, and Modets roll, and supervising students on all levels.
Steorn is currently doing research funded through an awarded grant from Riksbankens Jubileumsfond for the project: Swedish fashion in the U.S. in the 1960s. A transnational perspective on domestic fashion which will run for three years, (start December 2011).
Swedish fashion that was an internationally acclaimed phenomenon during the 1960s, a history that is largely forgotten today - even in discussions on today's Swedish "fashion wonder" - and is absent from academic fashion literature, national and international.
Swedish fashion had a particularly significant impact in the U.S. media: designers Katja of Sweden, Sighsten Herrgård, Rohdi Heintz and fashion companies Wahl's, Hettemarks and Almedahls appeared regularly in the fashion press.
This project examines fashion as an active part in shaping an image of "Swedishness" abroad. The 1960s international launch of Swedish fashion will be examined from a transnational perspective, which implies the study of domestic launching initiatives together with the reception in the U.S.
The project brings specific focus on how fashion is used as a tool for performing national identity and how fashionable symbolic value is exported together with material garments.
Steorn is also active as an associated research partner in the project "Fashioning the Early Modern in Europe. Creativity and Innovation 1500-1800" which is financially supported by the HERA Joint Research Programme. The project examines how creativity developed and disseminated in Early Modern European fashion cultures.
Patrik Steorn holds a PhD in Art History, his thesis Nakna män - Maskulinitet och kreativitet i svensk bildkultur 1900-1915 was published by Norstedts akademiska förlag, Stockholm in 2006. He is also active outside Stockholm University as a curator, writer and lecturer within art history, visual culture, fashion studies and gender and queer studies and is currently a member of the board of Swedish Art Critics Association.
Curator of exhibitions: Woven Dreams of Fashion. From Ripsa to New York. at Hallwylska Museum in 2011, The Man – The Image of Men in Art at Uppsala Art Museum in 2010, and Queer – Desire, Power and Identity at Nationalmuseum, Stockholm in 2008.
Read more about:
Contact Details
E-mail: patrik@fashion.su.se
Telephone: +46 8 16 34 70
Curriculum Vitae (pdf): No info


List of Publications (180 Kb)
List of publications (DIVA)
Senast uppdaterad: 9 oktober 2013
Webbredaktör: Svante Emanuelli
Sidansvarig: Centre for Fashion Studies