Annamari Vänskä
Postdoctoral Research Fellow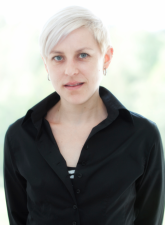 Annamari Vänskä. Photo: Bart van der Gaag
Annamari is an active, independent and productive member of the research community. She joined the Centre for Fashion Studies at the beginning of 2010, before which she was based at the Department of Gender Studies at the University of Helsinki.
Annamari holds a PhD in art history and gender studies (2006). Her dissertation analyzed the construction of femininity and masculinity in visualized consumer culture, especially in contemporary art and fashion advertising.
In 2005–2007 Annamari was a member of the research group Porno Academy, funded by the Academy of Finland and led by docent Harri Kalha. In this project she focused especially on the ideas of "pornographication of the mainstream".
She has published widely on visual culture—on fashion, contemporary art, pornography and advertising—in national and international, academic and popular publications. Her latest publications include for example articles on fashioning childhood in fashion advertising and on the politics of queer visibility. She is currently preparing a textbook manuscript on imaginary childhood in fashion advertising.
Annamari is one of the leading figures in queer visual studies in Finland. She is one of the founding members of the "SQS—Society for Queer Studies" in Finland and acted as the chair of the society in 2006–2007. She has organized and chaired several conferences, seminars and symposia and hosted numerous international scholars.
Annamari is also a visible person in Finnish culture. Since 2006 she has been actively involved with the Ministry of Foreign Affairs, with the Finland Promotion Board, Department for Communications and Culture as an artistic advisor. She is also the invited curator of the Internet gallery Culture Gallery, run by Ministry of Foreign affairs and promoting Finnish art and design.

As a curator she is also actively involved in the development of the curatorial practices and management in the Finnish art world. She is one of the founding members and the vice president of SKY—Society for Finnish Curators.
Annamari participates actively in popularising science in television, radio programs and newspapers, to which she gives expert statements monthly. She also writes a regular column for the Finnish art magazine "Taide", for the feminist magazine "Dooris" and for the university magazine "Yliopisto".
She is also a member of the HS-raati, a jury consisting of 100 Finnish cultural opinion leaders, assembled by the main Finnish newspaper "Helsingin Sanomat". The jury discusses weekly about topical issues in the cultural section of the "Helsingin Sanomat".
Read more about the: Culture Gallery
Contact Details
E-mail: vanska@fashion.su.se
Telephone: + 46 8 16 47 76
Curriculum Vitae (pdf)
List of publications (DIVA)
List of Publications (pdf)
Senast uppdaterad: 7 mars 2013
Webbredaktör: Svante Emanuelli
Sidansvarig: Centre for Fashion Studies