Tim Hutchings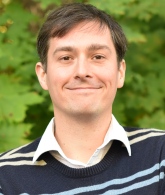 Tim Hutchings is a Postdoctoral Researcher in the Existential Terrains program, studying death, memory and ideas of the afterlife in digital cultures. He also teaches on the Masters program in JMK.
Dr Hutchings is a sociologist and ethnographer of digital religion. His research explores new digital forms of authority, community and ritual, the relationship between online and offline activity, and the role of media technologies in social change. His PhD (Durham University, 2010) was an ethnographic study of five online Christian churches, exploring the emergence of new religious practices and networks of belonging in social media and virtual worlds. His postdoctoral work has included studies of online storytelling and proselytism (Umeå University), Bible apps and Bible games (The Open University), and digital pilgrimage (Durham University). His study of death and bereavement began with ethnographic observations of mourning and memorialization within online communities, and has continued with studies of emotion, digital materiality and gender.
Recent and forthcoming publications:
Monograph:
(2016): Creating Church Online: Ritual, Community and Authority in Digital Religion. Abingdon: Routledge.
Edited Volume:
(2016) Religion and Material Culture (with Jo McKenzie). Farnham: Ashgate.
Selected Journal Articles and Book Chapters:
(2015) E-Reading and the Christian Bible. Studies in Religion/Sciences Religieuses 44(4).
(2015) Religion and the Digital Humanities. In Svensson, P. and Goldberg, D.T. (eds.), Between Humanities and the Digital. Cambridge: MIT Press.
(2015) Christianity and Digital Media. In. Brunn, S. (ed.), The Changing World Religion Map. Berlin: Springer.
(2014) Now the Bible is an App: Digital Media and Changing Patterns of Religious Authority. In Granholm, K., Moberg, M. and Sjö. S. (eds.), Religion, Media and Social Change. Abingdon: Routledge.
(2014) The Virtual Construction of the Sacred: Representation and Fantasy in the Architecture of Second Life Churches. Nordic Journal of Religion and Society 27(1).
(2014) Death, Emotion and Digital Media. In: Davies, D. and Warne, N. (eds.), Emotions and Religious Dynamics. Farnham, Ashgate.​
(2012) Wiring Death: Dying, Grieving and Remembering on the Internet. In: Davies, D. and Park, C-W (eds.), Emotion, Identity and Death: Mortality Across Disciplines. Farnham: Ashgate.
Contact
Senast uppdaterad: 26 november 2015
Sidansvarig: IMS