Exchange Studies in Europe - Erasmus+
The revised European Commission educational programme Erasmus+ enables students to spend 3-12 months at an IMS partner university in Europe and receive financial aid for extra costs.
Who Can apply?
Registered students who have completed at least 30 ECTS by the time of application and 60 ECTS before departure at the Department of Media Studies.
Master program students who will have completed 30 ECTS before the start of the exchange.
Students who have already taken part in an exchange will not be prioritized
Where Can I Go?
To all our partner universities in Europe. All agreements can be found in our exchange database - click "more informaiton" for details of each university.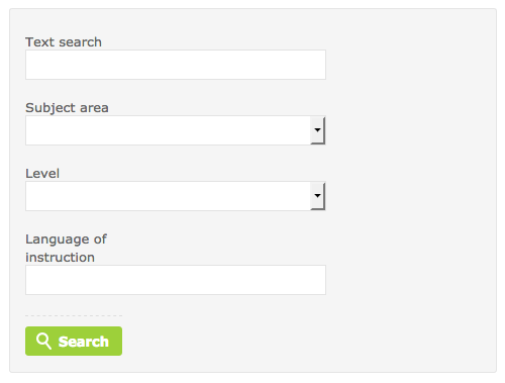 When Can I Go?
Different universities have varying lengths and semester dates. You can stay between 3-12 months.
When to Apply?
For fall semesters/entire AYs exchange: March 1 - 31
For spring semesters only: September 1 - 20
How to Apply?
Confirm that you meet the above requirements
Review the list of universities and the courses they offer thoroughly.

Is there courses in a language you are proficient enough in?
Are there courses relevant for you and your degree offered to exchange students?
Does the agreement include you subject area?
Does the agreement include your level? (Bachelor or Master) - click on the blue button "more information" in the database.
Please take as much time as you need to make an informed choice.

Choose two (2) universities
Confirm that the semester dates at both universities are compatible with your studies at SU.
Complete the online application
Contact you coordinator if you have any questions
When Will I be Notified?
You will know if you have been nominated or not within a week. NB! Always apply for courses at SU for the coming semester as an insurance policy should your exchange be canceled!
Can I Apply Courses From the Exchange Towards my Degree From SU?
Yes, given that they are university level courses without content overlaps. Read more about Learning Agreements here.
How Large is the Grant?
The grant covers som of the extra expenses arising when studying abroad and varies by country. Please see this page for current information.
Are Erasmus+ Exchange Stays Free?
Yes, tuition fees are waived if you are tuition fee exempt at SU. If you are a paying student, you will keep paying tuition as if you were studying at SU. You will also have to cover your own travel and accommodation costs just like you would when studying at SU. If you are entitled to financial aid from CSN for studies in Sweden, you can maintain your loan and grant support when studying abroad. For more information about financial aid - please see www.csn.se
What Language Skills do I Need?
Normally, you need to reach at least CEFR B2 to to be successful when studying in another language. After nomination, you will complete a language test to determine your level, and upon completion you will be offered an online language course to improve and hone your skills. The test is mandatory, but will not make you ineligible for studies should you not reach the required level. Don't let your unpolished French hold you back - take on the challenge!
Preparatory Language Courses
If you want to improve your language skills by taking a preparatory language course on site before the semester starts, you can receive the same daily stipend as for the rest of your mobility period through Erasmus+ if:
your language course connects to the start of the semester without a gap
your total mobility period including the language course does not exceed 360 days
You will have to cover the costs for the language course yourself. Rare exceptions could be made for languages not currently included in the Online Linguistic Support (OLS), i.e. not German, French, English, Italian, Spanish or Dutch.
Selection
If there are more applicants than seats, the following criteria applies:
Complete application with suggestions for 30 ECTS of courses/modules
Letter of Motivation containing all 3 required points
Prior exchange studies (new participants are given priority)
Level: Graduate students are given priority over undergraduate students
Relevance of studies for the agreement and the chosen courses/modules at partner university.
Merit score from the last 60 ECTS of coursework that the student has been registered for at SU. Every module of 7,5 ECTS gives a value from 1-5 (A=5, E=1) and are added up to a merit score.

a. Ex. Student 1: 45hp with marks A+B+C+D+E+C = 5+4+3+2+1+3 = 18 points.
b. Ex. student 2: 75hp with marks A+B+F+E+B+C+D+C in the last 60hp = 5+4+0+1+4+3+2+3 = 22 points.
c. Ex. student 3: 30hp with marks A+A+A+A = 5+5+5+5 = 20 points.

Active participation in the SU Buddy Program
Toss