Application - Log in with SU-Account
How to claim admission guarantee and view restricted courses
How to Apply as a Program Student
To claim your admission guarantee for English for Academic Research, for elective courses within your programme, and to access other courses that are restricted to programme students only, you need to use your Stockholm University credentials when logging in to www.universityadmissions.se or www.antagning.se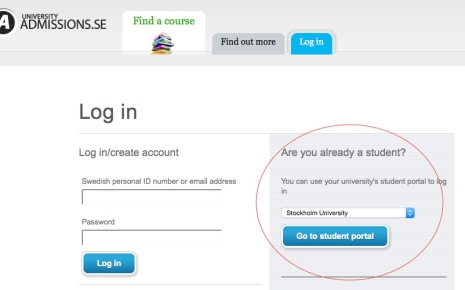 Always use your SU credentials when logging in
Rule of Thumb
Always log in with your SU credentials when visiting the www.universityadmissions.se or www.antagning.se
Did it Work?
After you have submitted an application, you should see the text "within master's programme in X-studies" under the course. The text will only show if your have admission guarantee to that particular course or if it's restricted to programme students.
Restricted Courses
Some courses are only visible to programme students after login with your SU-account.
All graduate students at the Department will be able to see courses offered offered by the Stockholm School of Entrepreneurship after login.