General guidence - Cinema Studies
The Section for Cinema Studies welcome International Students! We have courses and Programe in English from basic to advanced level. Here you find all you need to know.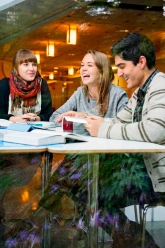 Overall Information regarding studying at Stockholm University
Student Services at Stockholm University
Application and Admission
How to apply as an international student
How to Study with us
Activate your University Account online
If not Admitted via universityadmissions.se: Activation the University account should be done during the Orientation Week/Day and can only be done by person at Stockholm University Campus Frescati. If you have questions contact international coordinator.
Using the platform MONDO
Mondo
Essential for participating. Each course will have a Mondo-site where online texts, schedules etc will be presented. Use your University Account to log into the University's collaboration and learning environments Mondo. Within Mondo you can, for example, communicate with teachers and fellow students, fetch and give in homework exercises, and find information concerning possible changes in schedules.
Finding Schedules
Schedules Page
Also on the course site you are registered to on Mondo you will get a detailed schedule with reading and screening information. The teacher has the latest info regarding changes to the schedule.

Keep track on your results
My University (Mitt universitet)
Login with your University Account to the common portal My University. When you are logged into "My University" you can, for example, see the grades that you have been given in your studies, access files from common areas and compile a report of your achievements.
An important and frequently asked question is "How do I fund my studies at Stockholm University?" This section contains information on the following topics: tuition fees, study-related costs, the Student's Union fee, living costs, as well as grants and scholarships.
If you are interested in having a Swedish bankaccount during your stay as an international student
Stockholm University strongly recommends students to have a complete insurance cover to avoid extreme costs that might occur. Carefully consider which level of insurance you need and pay particular attention to the coverage's restrictions and exclusions.
Housing:
Akademisk Kvart (in English)
Student Union Accomodation Advice (links and info in English)
Stockholm Student Housing Foundation (SSSB- English Site)
Last updated: December 21, 2016
Page editor: Henrik Schröder
Source: Institutionen för mediestudier