Structure
Progression and course details
The first semester introduces students to the field of Global Media Studies, and how class, ethnicity, gender, and sexuality is represented in media content. A solid scientific foundation is laid for the duration of the Programme through a closer look at what science is and how knowledge is produced - both from a general philosophical viewpoint, and in the field of Media Studies. Students learn to identify, evaluate, and reflect upon the use of different methods in media research and critically evaluate findings in academic texts.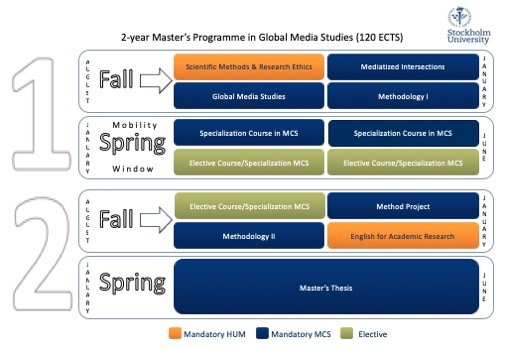 The second semester allow students to specialize through a number of electives within Media Studies and other related fields of study. 2-4 electives are offered every spring addressing current topics, and studies at other departments or at our partner universities is possible during this semester.
The third semester is designed to help students build skills in Academic English and research design, to learn about different methodologies and test different methods for the upcoming thesis. One final elective or specialization course is also offered.
The last semester is fully devoted to a capstone in the form of a master's thesis (dissertation), in which students, with guidance and supervision, identify one or several research questions, carry out empirical research and present their findings in a final seminar.
Add a Business Edge - Courses in Entrepreneurship
The Programme gives you access to cutting-edge courses, experiences and incubation at Stockholm School of Entrepreneurship - SSES. Take advantage of courses in Design Thinking, Trendspotting, Social Entrepreneurship and many more with other students and alumni from Stockholm's top five universities: Karolinska Institutet (KI), the University College of Arts, Crafts and Design (Konstfack), the Royal Institute of Technology (KTH), the Stockholm School of Economics (SSE), and Stockholm University (SU). SSES courses can be included as electives.
Stockholm School of Entrepreneurship >>
Semester 1
Semester 2
Semester 3
Semester 4
Education Plan