2019 Workshop at the Nordic Museum
The annual visit to The Nordic Museum with the Master's Programme in Fashion Studies was once again a great event.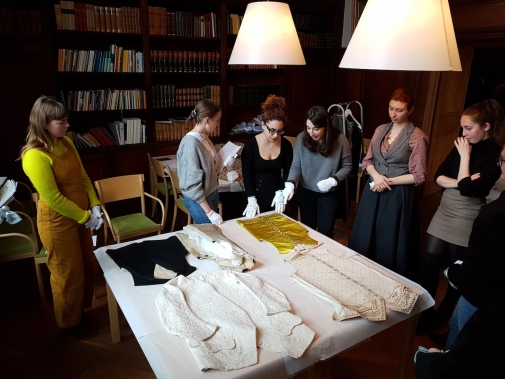 The work shop 2019 gave the students a rare oportunity to see and feel the collections, all under supervising by the curating staff at The Nordic Museum.
The MA course Fashion and Materiality is a great opportunity to have a hands-on experience in object-based analysis of historical garments. Each year, with the collaboration of Nordiska museet's own Centre for Dress and Fashion (Center för dräkt och mode), our first-year master students take part in a two hour workshop at the museum, where they are asked to examine, analyze and identify historical clothing from the museum's collection. For two hours, the students step aside from conceptual discussions and, instead, are asked to use their senses and intuition, applying the theoretical knowledge gained so far to study garments as primary sources.
This year textile conservator Leif Wallin, assistant curator Katarina Olars and intern Eanna Morrison Barrs (one of our own MA Fashion Studies program's second year students) guided our student and course leader Chiara Faggella in the appraisal of, among others, an early 19th century evening gown, one habit à la française from the 1750s owned by Swedish industrialist Jonas Alströmer, and a silk waistcoat that allegedly belonged to Jacob Johan Anckarström, the infamous murderer of king Gustav III.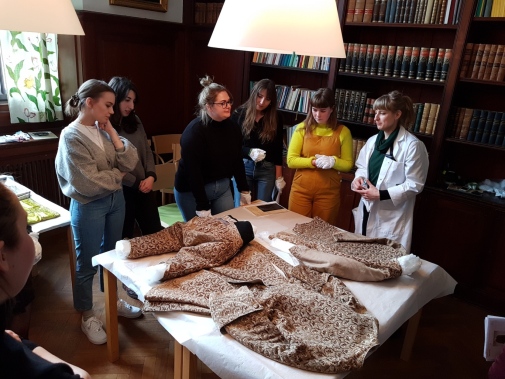 This enriching and inspiring experience is part of the last course for our master students, who will soon take a well-deserved summer break. We hope that the workshop will help them find some inspiration when they will come back for the autumn term and start brainstorm topics for their master thesis.
Last updated: May 8, 2019
Page editor: Henrik Schröder
Source: Institutionen för mediestudier