Application
What to submit when and where
Check complete application: What you need to have uploaded and in order
| | |
| --- | --- |
| International applicant | Swedish applicant |
| Letter of Intent | Letter of Intent |
| Extended Abstract | Extended Abstract |
| Degree Certificate | Check your merits are in order - antagning.se and student.ladok.se |
| Transcript of Records | |
| Proof of English Skill | |
### No documents requested below should be sent to Department of Media Studies - only upload to universityadmissions.se or antagning.se ###
When to Apply
1st round: All applicants: October 16 - January 15
2nd round: EU/EEA and Swiss citizens only: March 15 - April 15
Admission Results
1st round: Early April
2nd round: Mid-July
Where to Apply?
The below links will only display results during open application rounds
universityadmissions.se >> (English)
antagning.se >> (Swedish, active March 15 - April 15 only)
All Applicants - International and Swedish upload 1. and 2.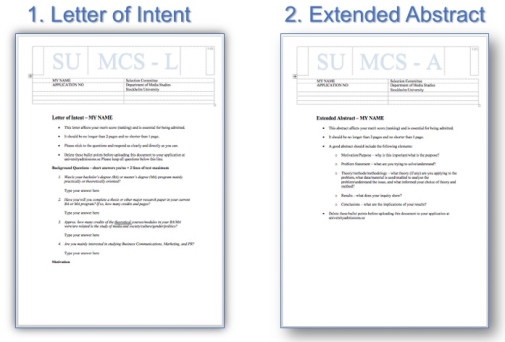 Letter of Intent in English - Letter of Intent template (138 Kb)
An extended abstract of your undergraduate thesis or equivalent academic research paper in English - Cinema Studies Extended Abstract (175 Kb)
Applicants with International/Foreign Study Merits - Three documents presented below to only upload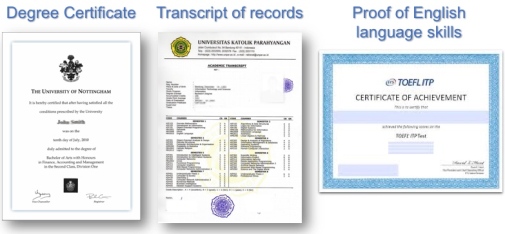 Bachelor's degree certificate/diploma and transcripts from your undergraduate studies - instructions at universityadmissions.se >>
Proof of English language skills - instructions at universityadmissions.se >>
Applicants with Swedish Study Merits
Most applicants with Swedish study merits (svensk gymnasieskola, högskola och universitet etc.) will have their merits retrieved automatically. Older merits may need to be submitted by post. Please review your merits and read more about how your merits are retrieved at www.antagning.se
Questions?
Please do not submit any diplomas, transcrips, language tests or other merits to the Department of Media Studies. Diplomas, transcrips, language tests, and other merits need to be submitted via universityadmissions.se/antagning.se
Always follow instructions from universityadmissions.se on how to submit your documents.
Rules may differ depending on your country, please see visit universityadmissions.se for details on how to submit your documents. Some documents can be uploaded and some may need to be certified and sent by regular post.
Selection
If the number of applicants exceed the number of seats, applicants will be ranked. Applicants will be selected based on the quality of their previous academic studies, dissertation project or sample of written academic work, Letter of Intent. All parts will be considered and weighed together into a comprehensive assessment of the applicant's merits.
The quality of the submitted text in regards to scientific writing, theoretical and empirical knowledge and the relevance of the research topic for the field of Cinema Studies.
The combination of courses in different (or same) subjects included in the Bachelor's degree and performances in these courses (grades). Of special significance are courses in Cinema Studies, if the major of the undergraduate degree is another subject or discipline than Cinema Studies.
Letter of Intent
Waitlist Procedures and Policy
Waitlisted applicants are very rarely admitted. Contact our International Coordinator for inquiries if you are reserve 1-5.