Journalistic Writing, 7.5 credits
Proficiency course in journalism, ideal for students looking for complementary studies within a Master's Programme and to turn an academic text into a work of Science Journalism.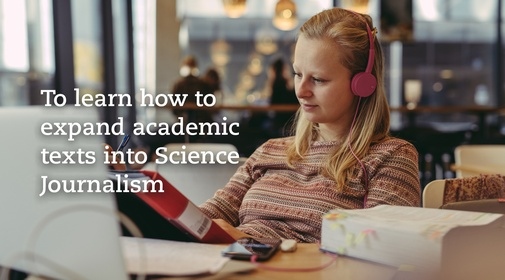 Journalistic Writing - a proficiency course focused on Science Journalism
The course is an introduction to journalistic writing with a focus on science journalism. It highlights ethical issues and problematizes the respective roles of scientific knowledge and journalism.
The practical part of the course consists of writing exercises and the collection of your own material as well as external monitoring in journalistic publications. Under supervision, you will write texts based on your own area of expertise.
Academic researcher or journalist - the course suits all
The course is excellent for you who would like to make your own academic text such as a thesis into a more popular science form. Also if you are a journalist and would like to understand how to turn an academic text into popular science. All by using the tools within Science journalism.
Course on First Level with Master's Programme eligibility
The course is 7,5 ECTS and run at half time pace. But unlike most courses in English it is not Second Level. Instead it is First Level with special eligibility: Academic degree of at least 180 ECTS, incl. independent work on 15 ECTS (same eligibility as admission to Master's Programme).
What you will get from the course
· Source search
· Interviewing techniques
· Source criticism
· Journalistic writing
· Strategies for communicating research results in journalistic form aimed at a broad audience
COURSE STAFF
Course teachers have extensive professional journalism experience internationally and in Sweden. The course coordinator is director of studies for journalism, and has taught journalism at universities in Sweden and the United States. has a professional background as a journalist contributing to the Chicago Tribune, Los Angeles Times and other international and Swedish publications, and conducts research on visual journalism and editorial processes
Education event
Starts Second period / 50% pace
First level
English
Academic degree of at least 180 ECTS, incl. independent work on 15 ECTS.
CONTACT:
Adress Student Counselor via studievagledare@ims.su.se or Director of Studies about the course
Last updated: January 27, 2020
Page editor: Henrik Schröder
Source: Institutionen för mediestudier