Alumni Day: When art plays monopoly
The Department of Media Studies alumna guest lecture "When Art Plays Monopoly", held by Eva Esseen Arndorff, CEO TriArt, attracted 50 alumni, students and staff to the Aula Magna auditorium at Stockholm University.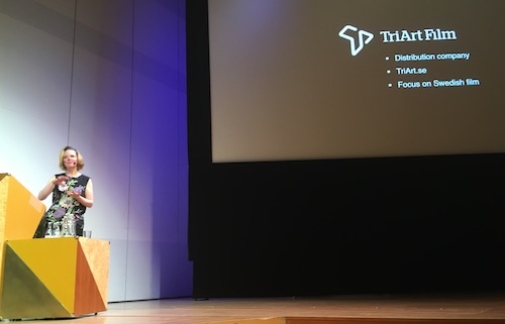 Eva talked about terms and conditions for running a film distribution company and her dedication to distribute film, both on screen and internet streaming, with broad representation and quality focus.
Commercial art and fine art
Alumni Johan Magnéli, Industry Coordinator at Stockholm International Film Festival, did visit the Alumni Day for the first time.
Johan found Evas lecture very interesting and especially the discussion about commercial conditions in the Cinema Business and he stresses the importance of Cinema as fine art.
Johan holds a Bachelor in Media Studies and a Master in Cinema Studies from the Department of Media Studies.
The yearly Alumni day was held in Aula Magna auditorium on October 17. The theme of the Alumni Day was "Does art make a difference?"
Birgitta Fiedler

Welcome to IMS Alumni Relations
The Department of Media Studies Alumni Relations collaborate with former students, Ph.D. students and employees. Mutually exchange, after you finished your studies, will develop both you and the department. So stay in touch with us!