Michaela works in Bollywood
Michaela Strobel from Germany studied the master programme in Media and Communication Studies at IMS. Currently she's living in Bombay, has her own media studio and is working with Bollywood productions.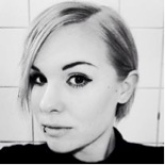 Age: 28
Current hometown: Bombay, India.
JMK Alumna Michaela Strobel studied the master programme in Media and Communication Studies 2012-2014, after her BA degree in Communication and Media Management in Germany.
In 2014 she started up her own creative media studio together with her partner. Apart from original content, they have built a team specialising in behind-the-scenes films for big Bollywood productions, with clients such as FOX and Disney.
Michaela wrote her MA thesis on the topic of Community Video as a Tool for Empowerment in Rural India.
How has your MA education been useful for you in your current work today and in your media studio?
– One of the main emphases in the MA course was questioning what effect media content has. Both on a sociological and a psychological level. In India the majority of content is geared towards the uneducated masses, due to the fact that the majority of the population is unfortunately that. The behaviour of mass media is reinforcing stereotypes - be it consciously or unconsciously. Having read and studied so much about the subliminal impact of media made me very sensitive to the content I create. As an entrepreneur it takes a great deal of courage, but I try to choose projects which are meaningful. I try to question myself and the impact our videos have. What impact will it have? How can I make it have an impact? What emotions can I use?
– Another important part of this MA course was studying media around the world. India's metropolitan society is extremely diverse and our clients are catering to different segments. Sometimes they themselves don't know who they want to approach. In these cases my background from studying TV, ad and online formats from around the globe really comes in handy. Nothing in this world is new, innovation comes from translating things which are already there into a different space. So the way a Swedish crime series is being shot might very well inspire the script for an Indian detective story.
What has been the most useful and interesting parts from your MA programme?
– It's an often used term, but for me studying in this program meant to learn "what media does with people and what people do with media".
– I loved to study the subtle message behind media content and content presentation. And - on the other side of the medal - how stereotypes and culture are reflected in the media.
Sometimes you only recognize certain cultural traits of a country when studying its media in-depth! And, in many cases, you realize that cultures are truly not unidimensional but made from many different views and interpretation. Having said that, there's always a larger pattern and motivation behind the media production and reception. Why do we like certain kinds of stories and why do we prefer this media channel over the other? You can only find that out if you spend a lot of time with the topic!
– At SU it's a lot about detail and proper analysis. It was intensive to work like this, but it's a skill which now stayed with me. I can't think about media without thinking about it's connotation.
How did you get your MA thesis published as a book?
– I was really lucky. The publisher contacted me one day because they had read my title somewhere. They asked me to send the thesis so that they could assess if it's really interesting. They liked it. But because it was not as interesting as I would've ideally liked to have written it, I added some more side stories from my field trips (it was an ethnographic approach) and also a larger "Critique and further research" section. The topic is so exciting and the more time had passed and I had spent talking with people about it, the more I realized where else it could be interesting to study this subject. I do hope that now as a book some more people will read it and get inspired to do their own research in this direction!
Michaelas thesis was published by Lambert Academic Publishing with the title "Empowerment through Audiovisual Storytelling: A Study of Community Video as a Tool for Empowerment in Rural India".
What are your future plans in the field of research?
– For now I'm happy to run my company. But living in India, I am still traveling to remote places and I see the potential of how modern storytelling can empower people. The study I conducted here in the rural parts of India was only preliminary, much more needs to be learned about the topic - also on a global scale. I definitely want to research more about this. Not in the near future but maybe in a couple of years, I'll return to research. Before that, I'll see what I can pick up in my daily life. I keep making notes.
Michaelas media studio Harkat Studios is on Vimeo och Facebook.
Birgitta Fiedler, Alumni Relations Coordinator
Read also Der Tagespiegel article about Michaela, published October 2018
https://www.tagesspiegel.de/berlin/gemeinschaftsbueros-in-berlin-coworking-space-eine-idee-reist-von-friedrichshain-nach-bollywood/23216886.html