"It was a perfect match!"
Sebastian Lindholm studied the international Master's Programme in Media and Communication Studies at JMK.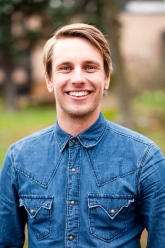 Name: Sebastian Lindholm
Age: 30
Current hometown: Stockholm

JMK Alumni Sebastian Lindholm studied the international Master's Programme in Media and Communication Studies at JMK during 2009-2011. He has been working at the Communication Office at Stockholm University and with international student recruitment at KTH Royal Institute of Technology. He now works with digital communications and marketing at the pharmaceutical company MSD.

You started working already during your master studies, tell us why?
– After my first year of master studies I saw the opportunity for a position as International Student Coordinator at the Stockholm University Student Union. That was an amazing job, being able to meet so many new faces and having it as a job to organize events and excursions to help international students to have a great time while in Stockholm and Sweden.

What did you do after your studies?
– After my two years at JMK I applied for a job at the Communications Office at Stockholm University.
Sebastian did not get the job but the manager told him to apply for another job she thought was suitable for him, he took the chance and after two interviews and an English test he was offered the job as Public Relations Officer at the Communications Office at SU.
– I am pretty sure that the experience of working as an International Student Coordinator all together with my English knowledge and Media and Communication studies got me this job.
During his two years of work at the Communications Office he was the project manager for the annual event The Research Days. He was the content manager for the universities social media accounts on Facebook, Twitter and YouTube. He worked a lot with the web talk show Crosstalks. And he did a lot of work towards international student recruitment, attending student fairs in Russia and China for instance.
– In my position as International Coordinator at JMK I remember working with Sebastian on the trip to China, he had a lot of energy every time he was talking to students and promoting SU and for me it was so nice to present him as a former student at my department which made our promotion very genuine and personal, says Birgitta Fiedler, Alumni Relations Coordinator.

During your studies you also did a short exchange at Vytautas Magnus University, Kaunas, Lithuania. What did that experience give you?

– The exchange in Kaunas was a wonderful experience. The dialogue during the days in Lithuania was very interesting and I remember coming back feeling very creative and satisfied with the trip. I think my course mates felt the same as well as I remember a lot of happy faces both during and after the trip. I really recommend everyone to seize those kinds of opportunities.
After two years at Stockholm University Sebastian was advised to apply for a job at KTH, as Public Relations Officer at the Office of Communications and International Relations. He got the job and started working with international student recruitment with a strong focus on digital media and communication. He administrated social media channels, external portals, management of projects, and overall activities relating to the recruitment of international master's programmes.
Sebastian tends to stay two years at the positions he has received so far and in the summer of 2015 he got a new job again. This time he went to the private sector working with digital communications and marketing at pharmaceutical company MSD.
– This is definitely something different, but I was looking forward to something new, working towards a new target audience, having a bit more of a business focus, and also working and communicating things I previously in life did not know that much about.

Why did you choose the master programme in Media and Communication Studies at JMK?

– I had received my Bachelor's degree in the United States and wanted to study Media Communications in my hometown. It was a perfect match.
How has your education at JMK been useful for you in your current work today?
– It learned me a lot about the communication process and the important aspects of constructing a solid message. It was also a great time meeting people from all over the world interested in the same things as I was. We were a really international class and the global vibrant atmosphere made for some great discussion. I also enjoyed the many guest lectures and the fact that the lectures were spread out. I remember having lectures in Cinema Studies in Filmhuset, then lectures at the Frescati Campus of Stockholm University and then at Karlavägen 104.

What have been the most useful and interesting parts from your Ma programme?

– I believe that the many writing projects has helped me a lot in terms of copywriting and constructing a message using the English language. My language at work has most often been English, and still is today, and the fact that my studies were so as well has been a very positive influence.

Do you have future plans in the field of research?
– Not as of now but I must admit that when I think back about my time as a student it is always with joy. More freedom, more time to elaborate and think, the world is so large when you are a student and the thought that anything is possible is such a fruitful one, hold on to that as long as you can.
The future will show if Sebastian comes back to JMK, but first he will try his luck in the private sector, working at MSD.

Birgitta Fiedler, Alumni Relations Coordinator