Giovana: Public Relations, diver and communications for development expert
Alumna Giovana Silva Lerda studied the Master's programme in Media and Communication Studies at JMK. After her exam she applied for a J-1 visa sponsored by the Swedish-American Chambers of Commerce-USA and worked with marine life conservation, before joining an international PR agency.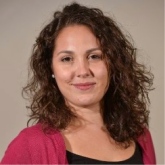 During her studies at JMK she was granted the Minor Field Studies scholarship and made her field studies in Sierra Leone, where she wrote her bachelor thesis on the topic strategic environmental communication campaign in Sierra Leone. Giovana then went on to develop her Master thesis on communications processes for environmental licencing and interning at the IPC-IG a partnership between the UN Development Program and the Brazilian government, and did some consulting for Conservation International in Brazil. She currently works at Edelman Brazil, where she has specialized in corporate communication and social responsibility initiatives.
Read about Giovana and her diving adventure in the article written by the Swedish-American Chambers of Commerce-USA.