Fashion Studies: "Like entering a new world"
Sofia Hedman-Martynova did study Fashion Studies and today she is working as a Fashion Curator and Exhibition designer based in London.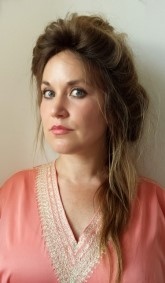 Name: Sofia Hedman-Martynova
Age: 37
Current hometown: London and Stockholm
Current job: Fashion Curator and Exhibition designer at MUSEEA
Sofia Hedman-Martynova did study Fashion Studies and today she is working as a Fashion Curator and Exhibition designer based in London.
Sofia Hedman-Martynova studied Fashion Studies at Master level 2006-2007 and then she took a master in Fashion Curation in London. Today she works as a Fashion Curator and Exhibition Designer at MUSEEA, an interdisciplinary platform bringing together a network of extraordinary contributors in fashion and exhibition.
Why did you choose Fashion Studies?
– My plan was to take a study break before my master in psychology and I started to work in a fashion store in Stockholm. I really enjoyed working in the store so I continued to work several years, by finally I missed the university. At that time Fashion Studies as a field of study was introduced at Stockholm University and I was delighted, because I saw the possibility to study my main field of interest, fashion and art. I did not know much fashion history and fashion theory but I learned quickly.
How did you experience the programme?
– It was like entering a new world! I had a lot of experience studying at the university already but for the first time I got a personal relation to the department and their network. The most important fashion scholars in the world gave us lectures.
How did you start your work career?
– After the first year at my master I planned an exchange semester in London and I continued with a master degree in Fashion Curation at London Collage of Fashion. Then I worked as an assistant to professor and exhibition designer Judith Clark. I did work with her exhibition Concise Dictionary of Dress for V&A, the exhibition Chloe in Paris and the starting of her Simone Handbag Museum in Seoul. During the same time, me and my friends also made our own small exhibitions.
Tell us about your present job!
Since six years I have been working with my husband Serge Martynov. Together we have made exhibitions for museums and galleries all over the world. Museums and galleries normally contact us with a wish for their exhibition and we make a plan out of it. Our work is to find an exciting theme that is relevant. Then we make a "curatorial" history, a common thread throughout the objects exhibited. We choose objects thoroughly to tell the history.
– There are many designers and artists that work with very interesting ideas, materials and forms.
Our work is to create an environment where art can be experienced. The exhibition design should help the audience reception. Often we use the exhibition design to create a context with new objects and with similar ideas from the history.
– To create an exhibition is always a great team work. Last year we started MUSEEA - a work place for artist, designers, writers and scholars. Our last exhibition was Utopian Bodies - Fashion Looks Forward at Liljevalchs Art Gallery in Stockholm but we have also exhibitions for Somerset House in London and Christies in New York. To work in different countries is a fantastic way to get to know new cultures.
How has your education contributed to your career?
– To make exhibitions was for me the best way to connect practical and theoretical background. Fashion Studies at Stockholm University gave me a broad and deep knowledge in Fashion history and theoretical perspective. As a curator it is important to have broad knowledge in the field. The education also gave me valuable contacts for my future, both national as internationally, and some of them I still work with today.
Do you have any advice for prospective students?
Just focus on the field where you have your passion, then your work will be interesting. A teacher in London once told me: throw all books you find boring and only focus on the books that draw your most attention. The time is short and there are so many parts within Fashion Studies that are unexplored. Your work can really make a change. I would also give the advice to work with first hand sources, for instance archive material, to understand the Fashion History and Fashion theory.
MUSEEA is the collaboration of the artist and design duo Sofia Hedman and Serge Martynov: a multidisciplinary curatorial platform based in Barcelona and London. https://museea.com