Curatorial Assistant Aiming for a Ph.D
Saki chose Cinema Studies at Stockholm University to study feature film and the works of Ingmar Bergman. She enrolled in 2016, graduated in 2018, and is already working with Film in Tokyo, Japan.
This is a follow-up interview to the initial interview with Saki when she was in the middle of her studies in 2017. Read the interview here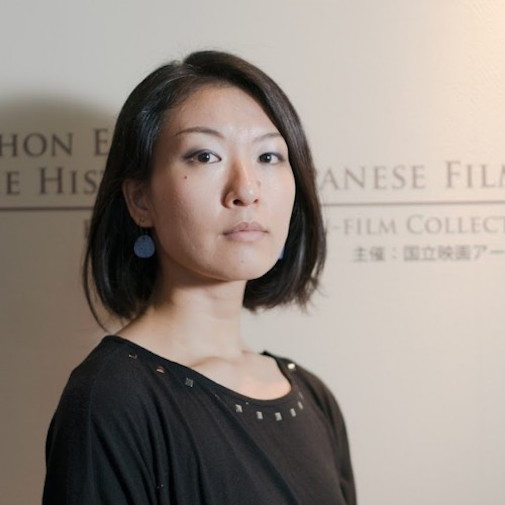 What did you write about in your thesis?
I wrote about the star image of a Swedish actress Eva Dahlbeck, who appeared in several of Bergman titles. My aim was to analyse how Bergman in his films featuring Dahlbeck exploited the actress's own star image which was created by her various performances both in cinema and theatre and also the media discourses about her. In so doing, I hopefully succeeded in illuminating the tight and reciprocal relationship between the Swedish popular culture and Bergman's works, which was not very often focused on.
I actually changed my topic after getting a very good piece of advice from my classmate, which tells how the communications with your peers might greatly affect your study (in a positive way, of course!)
What are you currently engaged in? (work, projects etc.)
I'm currently working as a Curatorial Assistant at National Film Archive of Japan (NFAJ). The section I belong to is mainly in charge of film-pedagogic events as seminars, workshops, or screenings for children, but also of special screenings like that of 2001: A Space Odyssey in 70mm this autumn.
My daily tasks are of various sorts, ranging from research on our collection, updating our website or making press releases to taking care of children who burst into tears during the screening (!) As an extra task outside my contract, I'm also working on the translation of some titles for our retrospective programme in Swedish film this winter.
How would you describe what your learned in the Master's Programme in Cinema Studies?
Since I hadn't studied Cinema Studies before joining the programme and my major interests lied in feature films (or more precisely Bergman's films!), some courses greatly contributed to my acquiring wider and deeper understanding of the discipline with their focusses on documentary films or film archives.
It's strange to say, but I think I wouldn't have gotten my current job in Tokyo if I hadn't been in the Programme in Stockholm. I did my internship at NFAJ last summer, which was actually prompted by my desperate attempt to get an intern position for my course in Field Studies in Stockholm. (I ended up doing another internship at Bergman Center in Sweden for the course, though.)
The experience during that summer in turn prompted me to apply for my current position, so I think the programme in Stockholm somehow led me to Tokyo. Besides such a direct and practical influence, I really appreciated my teachers and my peers in the programme, who inspired me both academically and personally.
As I suggested above, I might not have been able to write what I wrote in my completed thesis without the advice and support from my supervisor and classmates inside and outside seminars. I loved the good vibes in the class and actually miss it now that I've left the stimulating academic environment that the programme offered me.
What are your plans and ambitions for the future?
I'm hoping to do a PhD in cinema studies so that I can explore my research topic, namely, Swedish film stars. I'm seeking for the opportunities for that in Sweden right now. From my previous and current experiences, I'm aware that there are not so many experts in Swedish or Nordic cinema in Japan, so my ambition is to somehow contribute to the development of research on them in my home country.
Although I'm very interested in PhD for the moment, I might change my mind according to what to come. So, in that sense, I'm quite open for every possible alternative. In my view, the way I'm thinking about my future now is also influenced by my experience in Stockholm. Before joining the programme, I thought that Sweden would be the only place where I could realise what I wanted to do, but meeting and communicating with people from various countries and backgrounds made my perspective much wider, so that I can try to find any possibilities in any places.
What were the greatest challenges and rewards of studying in Sweden?
The greatest challenges were the language and the climate! As for the language, it was English I had hard time with the most. In Japan, I had thought my English was quite all right, but right after joining the programme, I felt as if I were a little child in front of my European classmates who were excellent at the language, because of my much limited language skills. I completely lost the self-confidence and the first a few months were very difficult for me. So if a student from my country is reading this, I just want to say, "Be prepared."
The good thing with me was that I was more fluent in Swedish, so I had relatively little trouble with my daily life in Stockholm, except for the climate. Since the programme began in late summer, it was just getting darker and colder during my toughest time. With a little patience, you can manage though, because after the long winter, the bright and beautiful Swedish summer is waiting for you. The rewards of studying in Sweden are obvious from what I've already answered, aren't they?
Do you have any recommendations or advise for prospective students?
Since I'm from Japan, I would like to recommend the programme especially to the students from Asia. Particularly in my case, all my classmates are from Europe, so even the chats with them outside classroom were often full of discoveries, because of the cultural references, for instance. The multi-cultural and -lingual environment you can get both inside and outside the university would be very exciting and help you develop a more flexible view even on your own culture or society. It'd definitely be worth coming to Stockholm and bearing the cold!
At the same time, you also should be aware of the contents of the courses you'll potentially take. My interest, Bergman, was very specific and the programme at Stockholm University was therefore the optimal choice for me in terms of the relevance, but it isn't like that for every one. It'd also be great to have a look into the profiles of the professors so that you can know of which field they are specialists.