A wish for filmmaking became an academic career
Alumnus Johan Magnéli studied the international Master's Programme in Cinema Studies and graduated spring 2015. Johan has since then been working as Industry Coordinator at the Stockholm International Film Festival and at the Stockholm University Student Union.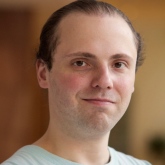 Name: Johan Magnéli
Age: 28
Current hometown: Stockholm
Education: Master´s degree in Cinema Studies and BA in Media and Communication Studies
Since childhood Johan knew he wanted to do something in the film industry.
– At first I wanted to become a director or screenwriter, but I quickly fell in love with Cinema Studies and decided to try my luck with an academic career.
One of Johan´s future goals is to become a PhD so choosing to study the Master's Program was no doubt for him. The international program was also an excellent opportunity to meet students from around the world and from different disciplines, he says.
– Studying the international master program gave a lot of stimulating discussions and other perspectives to issues and themes raised in class. The program really helped me to see the complexities of cinema and the many approaches that could be utilized.
Film festival - a dream come true
Working at the Film Festival as Industry Coordinator was a dream come true and it gave him a lot of experience and contacts.
– The job is about assisting the Head of the Industry department at the festival with the planning and execution of the Stockholm Industry Days. It is three packed days with events aimed for distributors, buyers, sales agents, investors and film makers where they can meet, connect with new collaborators and discuss the current state of the film industry. Basically, it is about creating meeting spaces for the Swedish and international film industries.
Johan is sure that his education in Cinema Studies laid a foundation for an understanding of film as a medium of communication, as a product of artistic and commercial ambitions, but also an understanding of the film and television industry.
– That helped me pinpoint what could be interesting for film makers to learn more about during the Industry days at the festival and how to approach the needs of various professions.
Stand out from the crowd!
Johan also has an interest in communication and how organizations communicate externally and internally to reach their goals. That interest led him to study a Bachelor in Media and Communication, as well.
– To merge these two disciplines, Cinema Studies and Media and Communication, certainly helped me expand my toolkit. From my experience, it not only gives you more options, but also makes you to stand out from the crowd.
Student Union – best experience to start a career
– After graduation I was not really sure on how to start a career and I did not have that much work experience, he says.
But, since he had been active member of the Student Council for Cinema Studies (SUFVS) which led him to two "commission of trust" employments at the Stockholm University Student Union he recon that he actually had work experience.
– During my time in the Student Union I really gained many valuable experiences which helped me enormously to land the job at the Stockholm International Film Festival. Also being a volunteer at the festival earlier years helped me.
– I cannot think of a better training ground for students, whatever their focus is, than to work at the student union. Without that experience I think my career advancement would have been much slower or non-existent.
Future goals
– To work with similar tasks and ambitions that I had at the film festival would be a dream come true or to work at the Swedish Film Institute or some form of regional film fund in the future would be great!
Johan is dedicated to help the film industry to make great films and he still has the goal to aim for a further academic career by applying for a PhD position in Sweden or abroad. Right now Johan has a short term contract at the Student Office at The Department of Media Studies and that means he will learn a lot about the administrative work at the University during this year.
Be active outside of classes!
– My best advice to get work experience is to find some form of voluntary work or other commitment during your years of studies. Maybe an internship at a media company or some form of student engagement in the student union for instance if you will continue to study.
Johan speaks out of his own experience and continues,
– It is always best to be active outside of classes during your studies, even though that can sometimes be hard and time consuming. Employers are usually impressed by your previous engagement, responsibilities you have had and learned skills. It also shows how interested you are in related subjects or issues. It is always better to try different things, because you never know when or to what it might help you in the future.
Read more about:
Johan´s master thesis: Write or Perish: How Screenwriters Author their Careers introduces the concept of "career authoring" to cover different aspects of the professional lives of screenwriters such as managing a career, establishing authorship and contractual negotiations.
Stockholm International Film Festival
Stockholm University Student Union
Birgitta Fiedler
Alumni Relations Coordinator