You are here:
Open lecture with Gabriele Monti
Open lecture with Gabriele Monti
Gabriele Monti's lecture will discuss his latest project dedicated to Italian models.
Italian Fashion Models: From the Fifties Up To Now
Open lecture with Gabriele Monti, IUAV University Venice
24 October 2013, 16:00-17:00, F-salen
Filmhuset, Stockholm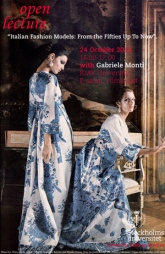 Gabriele Monti is a researcher in fashion design theory at the University IUAV of Venice, where he teaches design concept. He received his PhD in Semiotics at the University of Bologna with a thesis devoted to curating fashion-exhibitions in relation to the poetics of contemporary fashion design. Among his research interests: the relationship between fashion and visual culture, theories of fashion design, fashion curating and the relationship between fashion and the museum. His latest projects consists of a collaboration on the book Walter Albini e il suo tempo: L'immaginazione al potere (by Maria Luisa Frisa and Stefano Tonchi, Marsilio, 2010), a collaboration in the construction of the modern Una giornata moderna: Moda e stili nell'Italia fascista (edited by Mario Lupano and Alessandra Vaccari, Damiani, 2010), associate curator of exhibitions and their respective catalogs Elda Cecchele: In forma di tessuto (Marsilio, 2010) and Lei e le altre: Moda e stili nelle riviste RCS dal 1930 a oggi (Marsilio, 2011). He is also the associate curator for the exhibition Diana Vreeland, curated by Judith Clark and Maria Luisa Frisa (Venice, 2012).