You are here:
Fashion research in focus at Stockholm University
Fashion research in focus at Stockholm University
Luxury and sustainability in the clothing industry were two of the topics on the agenda when the Global Fashion Conference was organized at Stockholm University 20-21 October, where representatives from the academia and the industry met to discuss future challenges within the fashion industry worldwide.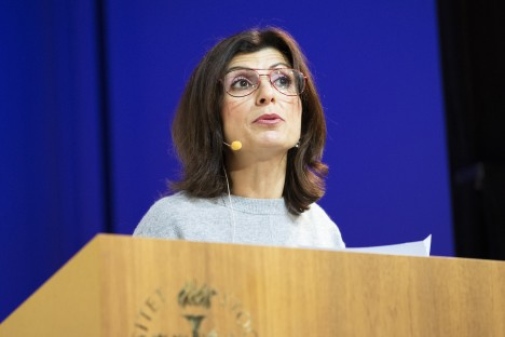 Topics such as "The relationship between couture and ready-to-wear", "The recent evolution of the Swedish luxury market", and "Stockholm: The Nordic Fashion Tech Capital" were discussed at the conference entitled "Tradition and Innovation: Challenges for Fashion and Luxury in the 21st Century" attracting several hundred international scholars in the field of research and fashion.
Another seminar discussed the recycling of clothes, and how that can be seen not as waste but as an opportunity to give clothes a new life. "How can the fashion industry teach the consumer to recycle?" asked Paula von Wachenfeldt, Head of studies at the Centre for Fashion studies at Stockholm University, and one of the organizers of the conference.
Paula von Wachenfeldt, explained in her opening speech that "Stockholm University has been studying fashion since 2006. We study the social impact fashion has on the surrounding society, and fashion as the medium for individual and group expression." "This conference is the first time luxury is represented in an academic context", she added.
Sweden is a strong design and fashion country, with worldwide known companies and designers such as HM, Filippa K, Acne Studions, Cheap Monday and more.
For Viivi Laakkonen, an international master's student from Kotka, southeast Finland, the Swedish knowledge in the field did play a role in her selection of Stockholm University for her masters, but also the city itself drew her here. "I did fall in love with Stockholm. But I also believe that there is a great knowledge in fashion here, marketing and some very good international brands. If I have my own brand one day, this will be a good experience", she says.
Viivi Laakkonen had high expectations on the two days of seminars and discussions. "I am excited to hear more about luxury and fashion", she said. Before her studies in Stockholm, Viivi Laakkonen studied textile clothing engineering and fashion design. The fashion studies at Stockholm University are perfect for her to get to know more about fashion field and industry, and to help her to proceed on her future career, she says, focussing on fashion, method, history and dress, and theory.
The conference was a collaboration between Stockholm University, Institut Français de la Mode in France and Universidade Lusíada do Porto in Portugal. The aim of the conference was to provide an international discussion forum for academics and practitioners on the topics of fashion, luxury, technology, sustainability and Stockholm as Nordic fashion tech capital. More information.
Helene Komlos Grill