Robert W. McChesney visits Stockholm University
EVENT
Date:
29 May 2013, 9.00 AM
-
30 May 2013, 6.00 PM
Venue:
JMK
Robert W. McChesney will be the key note speaker when the Nordic Research Network in Journalism Studies arranges its seventh seminar at the Department of Media Studies/JMK May 29-30 2013.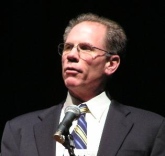 McChesney, who is Gutskell Endowed Professor in the Department of Communication, University of Illinois at Urbana-Champaign, USA, has written numerous books about the political economy of media and communication. His latest book is "Digital Disconnect. How Capitalism is turning the Internet Against Democracy". The title of his speech is "Journalism is dead. Long live journalism?" McChesney's key note, as well as panel debates about the future of foreign correspondents and how journalism in the future can be founded, is open for the public.
Last updated: April 30, 2013
Page editor: Fredrik Mårtenson
Source: Department of Media Studies