More women journalists than ever before in India, but their safety is deteriorating
"We have more women journalists than ever – but the conditions are becoming more difficult", Shakuntala Rao, professor of Communication Studies at State University of New York, Plattsburgh, said Tuesday, describing the media landscape in her native country India, during a visit at Stockholm University.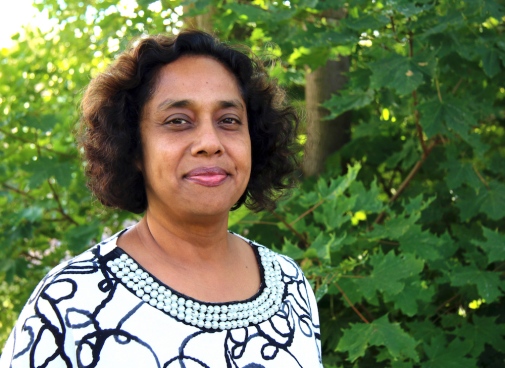 PUBLISHED: 26 September 26, 2018


One year ago, a friend and colleague of hers, the leading Indian journalist and media freedom defender Gauri Lankesh was murdered outside her home in Bangalore by a group of Hindu fundamentalists. And such assassinations now seem to be on the rise in India with at least 3 journalists killed in 2017 and in the first six months of 2018, 4 journalists have been killed.

"The risk for being killed as a journalist increases if you cover politics – corruption, nationalism - and sexual violence", Dr. Rao said.

According to Shakuntala Rao the ruling Indian government, led by Prime Minister Narendra Modi of the Hindu nationalist Bharatiya Janata Party, BJP, could probably have done more to ensure the safety of women journalists. But until this day "I have seen nothing", she affirmed, adding that: "I don't think the current regime is interested in freedom of the press".

The decline of safety is driven by "threats from religious nationalists" whose ideas are founded in "an old patriarchal order", she said.

After Modi came to power in 2014 it only took two years before the media owners in India had become more government-friendly, she added.

"The culture of adversarial journalism has changed. And the current government sees the press as the enemy of the state", Dr. Rao told, adding that: "critical journalists have moved away from the major news organizations to work for news websites" instead.

Despite the fact that the media situation on a national level is "dire" Dr. Rao is hopeful and sees "more opportunities for journalism - on a regional state and local level".
Svante Emanuelli

Professor Rao on the rape crisis
Despite that the public figures from the National Crime Records Bureau describing the ongoing rape crisis indicates that 39,000 rapes took place in 2016, professor Shakuntala Rao is skeptical of their accuracy:

"Nobody believes those numbers. The problem is far greater", Rao said, adding that when she has talked to journalists and NGO's on the ground they believe that there are no less than 60-80 percent of unrecorded cases out of all the rapes that take place in the country.

More information
On September 26, 2018, Shakuntala Rao gave a public lecture at JMK, Stockholm University on the difficult situation for women journalists in India.
On November 1, 2018 her new anthology "Indian Journalism in a New Era: Changes, Challenges, and Perspectives" will be published (Oxford University Press).
In the 2018 World Press Freedom Index of Reporters without borders, India is ranked 138th out of 180 countries, two places lower than in 2017, and the situation has continued to deteriorate.
Shakuntala Rao is not only professor of Communication Studies at the Department of Communication Studies, State University of New York, Plattsburgh, USA, but also Guest Professor at the Department of Media Studies at Stockholm University – Hosted by the Leading Research Environment in Global Media Studies and Politics of Mediated Communication.