International Symposium on Media and Suicide
EVENT
Date:
11 April 2013, 8.00 AM
-
12 April 2013, 6.00 PM
Venue:
JMK-salen, Karlavägen 104
Suicide has traditionally been regarded as a sensitive subject in Western culture. Recently, however, the evolution of the internet has changed the cultural attitudes to suicide as well as the possibilities for suicide prevention. Scholars studying the relationship between media and suicide meet at Stockholm university on April 11 and 12 for a symposium where internationally prominent researchers will present recent findings in the field.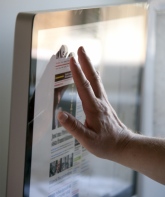 The Department of Media Studies (IMS) at Stockholm University, is hosting an international symposium on the topic of media and suicide. The symposium is organized in collaboration with the National Centre for Suicide Research and Prevention of Mental Ill Health (NASP), Karolinska Institutet.
Internationally prominent researchers will present recent scientific findings and discussions on theoretical aspects of the field of media and suicide. Central themes of the symposium are the way taboo and stigma surrounding suicide and mental health are handled and communicated in society and culture; development of media-based suicide prevention efforts, as well as knowledge-translation for the purpose of informing the general public, authorities and decision-makers on risks and opportunities of various types of mediated communication about suicide.
Presentations during the symposium are organized under the following sessions:
Media and Suicide: What do we know – Where do we go? (I & II)
Suicide in the News
Suicide Prevention through Media Interventions
Medias Role on Suicide Pacts, Suicide Clusters and Cyber-Bullying
Intimate On-Line Conversations about Suicide
More information about the symposium, including the programme and registration form, can be found at: http://msig.jmk.su.se.
Last updated: March 4, 2013
Page editor: Fredrik Mårtenson
Source: Department of Media Studies