"Trump Keeps His Promise - And Delivers Hate"
"Those who voted for Trump got exactly what they voted for. There was no false advertising. There was no deception", professor Christian Christensen, Stockholm University, stated in an op-ed article published in Swedish tabloid Aftonbladet on Wednesday.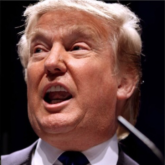 "The hateful rhetoric that Trump expressed during the election campaign – against women, against Muslims, against minorities, against his political opponents, against journalists – has carried over into his Presidency. He has delivered what he promised", Christian Christensen added.
Read the full-length article