Discrimination more appealing than experts thought possible
"So, as the US elections come to a sad, tragic end, it must be said that the loser of the elections was actually decided many months ago: it was, and will be for years to come, the citizens of the United States", writes Christian Christensen, American citizen and Professor of Journalism, Stockholm University in Swedish daily Dagens Nyheter.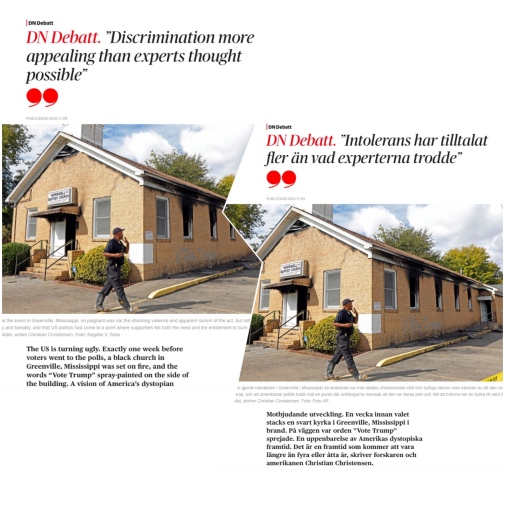 On the evening of November 1, exactly one week before voters went to the polls, a black church in Greenville, Mississippi was set on fire, and the words "Vote Trump" spray-painted on the side of the building.

"We have seen a vision of America's dystopian future, and it's a future that won't last for only four or eight years", writes Christian Christensen adding that:
"What made the event so poignant was not the shocking violence and apparent racism of the act, but rather the sense of its inevitability and banality, and that US politics had come to a point where supporters felt both the need and the entitlement to burn down a church in support of their candidate".
Last updated: January 11, 2017
Page editor: Svante Emanuelli
Source: Department of Media Studies