Global Media Café: Migration in Times of Crisis
EVENT
Date:
28 January 2016, 3.00 PM
-
28 January 2016, 5.30 PM
Venue:
JMK-salen
Panel and roundtable discussions on migration, politics and media.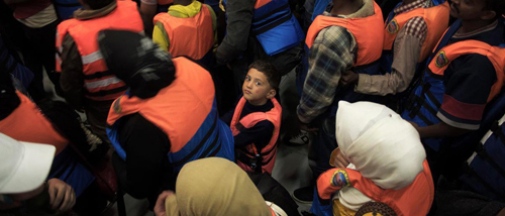 Welcome to a Global Media Café entirely dedicated to "Migration in Times of Crisis – Territory, Democracy and the Media". The event starts with a mingle 15:00-15:30 followed by a panel and a roundtable discussion between 15:30-17:30 in JMK-salen. The event is arranged by The Department of Media Studies.
PANEL PARTICIPANTS:
Miyase Christensen, Christian Christensen, Anna Roosvall, Gunilla Hultén, Ester Pollack and Alexa Robertson. Chair: Kristina Riegert.
ROUNDTABLE PARTICIPANTS:
Erik Nilsson, statssekreterare, Arbetsmarknadsdepartementet
Karin Pettersson, politisk chefredaktör, Aftonbladet
Mikael Ribbenvik, Migrationsverket, ställföreträdande generaldirektör; operativ chef
Karen Austin, demokratistrateg, Stadsledningskontoret, Kansliet för mänskliga rättigheter och demokratiutveckling
Ibrahim Muhamna, Journalist, Documentary director
Moderator: Christian Christensen, professor, IMS Stockholms universitet
The event is open for students and the general public.
Agenda
Due to multiple political, economic and environmental crises faced by populations in the Middle East, Africa and elsewhere, human mobility across borders has increased considerably over the past decades. What Europe recently encountered at its doorstep due primarily to the Syrian situation is an intense example, yet not unique nor a temporary "problem". The conservative strands of public discourse that have materialized around the refugees indicates an elevation of Islamophobia, and is reminiscent of enduring forms of labelings of, say, Roma and Central and Easterns Europeans as 'benefits tourists'. Although a humanitarian legal space exists in Europe, cultural and political responses, as we witness through the media, remain highly problematic. Against this backdrop, this roundtable will address three particular aspects with a view toward historical realities: 1) Direction of flows; and, national/territorial and cultural considerations, 2) Political responses and democratic deficits, 3) The role of the media and communication outlets and texts.
Date and venue
January 28, 3 PM - 5:30 PM. JMK-salen, Karlavägen 104, 4th floor.