Expert: Western media provides a simplistic image of Russian media
Western media often misrepresents Russian media, according to British researcher and Russian media specialist Stephen Hutchings of the University of Manchester, who participated in a media conference at Stockholm University last Thursday.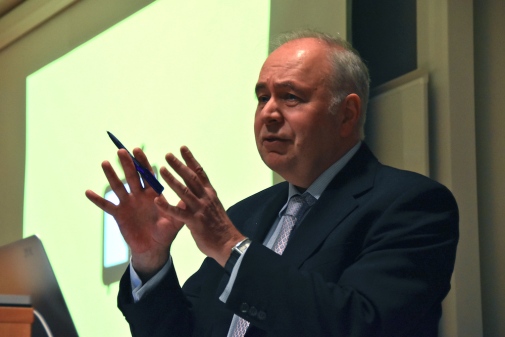 PUBLISHED: November 15, 2018

He is critical of Western media that he believes often provides a simplistic image of Russian media.
"There is considerable variation within the Russian media, and even within Russian state media, whether by outlet, by medium, by genre or by region", said Stephen Hutchings, professor of Russian Studies at the University of Manchester.
The British researcher believes that established Russian presenters and journalists can have a limited journalistic freedom, in order to adapt Kremlin narratives and agendas for radically different international audiences, that are much different compared to the domestic ones.
Stephen Hutchings believes Western media is adopting double standards in its judgement of Russian media.
"RT, for example, is not a whole lot worse than Fox News, or the Daily Mail or the Sun, Britain's most popular newspapers, which have great influence on the news agenda of the BBC", he said, admitting that Russian media are considerably less free and diverse than UK media.
Stephen Hutchings would like Western media to nuance the one-dimensional image of RT and Russian media and acknowledge "that organizations like RT have their own institutional culture and in RT's case, one that is shaped significantly by staff with international backgrounds very different from those of domestic broadcasters. This occasionally becomes evident when leading presenters 'go rogue' (the Abby Martin scandal in 2014). Whilst we may regard them as deluded or misguided, there is no question that many RT (and indeed Russian state) journalists regard themselves as media professionals, not as state puppets".
Stephen Hutchings argues that this is why RT also has been able to win prestigious international awards for its documentaries, and for its innovative social media projects.
But he is convinced that RT's influence as a traditional broadcaster is considerably exaggerated.
"Its viewing figures are quite low with the exception of RT Arabic, and RT Spanish, both of which are proving successful in the Middle East and Latin America respectively. It has much greater success on its YouTube channel, and through its social media operations", Stephen Hutchings said.
According to him, RT has managed to successfully reach younger audiences, especially via social media platforms like YouTube and Instagram. Stephen Hutchings argues that RT has identified and promoted issues developing at the margins of western political culture, thus allowing them to enter the mainstream.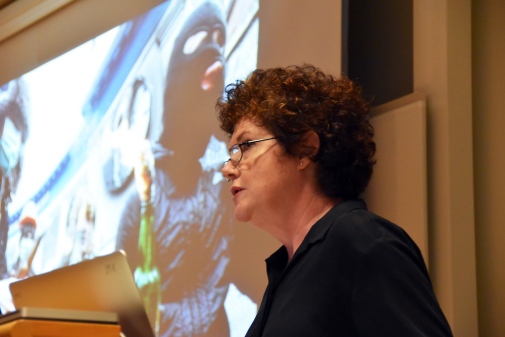 "Certain conspiracy theories around the Skripal affair that were first circulated by RT gathered considerable momentum, for example", he said.
Despite his wish for a more nuanced image of RT, Stephen Hutchings does not entirely disagree with the description of RT as a state-run propaganda channel.
"RT is state funded and its editor-in-chief Margarita Simonyan, is clearly very close to Putin personally. There is no doubt that the Kremlin sets RT's broad parameters of operation and news agenda, and that key official narratives are agreed at the level of the Kremlin. However, Simonyan (and RT generally) are given considerable leeway to adapt, to experiment and to nuance their output in a way that makes the expression 'state-run propaganda channel' misleading", he said.

When it comes to Kremlin-sensitive issues as the Skripal case, the Ukraine conflict, or Special Counsel Robert Mueller's Russia probe in the U.S., Stephen Hutchings believes that RT does not deflect from the official Russian policies.
"In these cases, RT is not impartial. In fact, RT is rarely impartial at all: it doesn't recognize impartiality as a value, any more than Fox News or the Daily Mail recognize impartiality. All media, in RT's view of journalism, including the BBC, are biased and reflect the interests of their sponsors. Impartiality is always an illusion. With Ukraine and the Skripal case, all state Russian media outlets were very tightly controlled and remained within the bounds of the approved Kremlin narrative. This is less true of other stories".
Svante Emanuelli

More information
Stephen Hutchings, professor of Russian studies at the University of Manchester, has written several books on various aspects of Russian literary, film and media studies. He is the principal investigator of the Reframing Russia project, a UK Arts and Humanities Research Council funded collaboration between the University of Manchester and the Open University.
Alexa Robertson, professor of Media and communication studies at JMK and the Department of Media Studies, heads the Screening Protest project. She has recently released the book "Screening Protest - Visual narratives of dissent across time, space and genre" (2018).
The Screening Protest Symposium that took place on Thursday 8 November 2018 at the Department of Media Studies, is part of the lecture series Global Media Café and was organized by Alexa Robertson and the research assistants Diana Grecu and Luiza Chiroiu. The conference was funded in collaboration with the Leading Research Environment in Global Media Studies and the Politics of Mediated Communication at JMK.
This article was first published in Swedish on November 9, 2018 and was later translated to English.