Bonnier Guest Professor Robert W. McChesney
Robert W. McChesney is Gutgsell Endowed Professor in the Department of Communication, University of Illinois at Urbana-Champaign. In September he visits IMS as a Bonnier guest professor.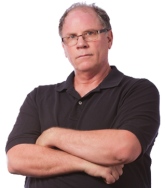 Robert W. McChesney has written and edited 23 books, several of them award-winning, and is internationally known for his critical studies of the political economy of communication. His latest books (2013) are Digital Disconnect. How Capitalism is turning the Internet Against Democracy and (together with John Nichols); Dollarocracy: How the Money-and Media-Election Complex is Destroying America. In 2008 his book Rich Media, Poor Democracy. Communication Politics in Dubious Times (published in 2000), was awarded the ICA Fellows Book Award, which recognizes books that "have made a substantial contribution to the scholarship of the communication field, as well as the broader rubric of the social sciences, and have stood some test of time".
McChesney's specializations and research interests include the political economy of communication; 20th Century media history; international communication; media and communication policy; media and social change. McChesney is co-founder of the national media reform organization Free Press, and was in 2000-2004 a co-editor of the independent socialist magazine Monthly Review.
McChesney will, together with associate professor Inger Stole, be responsible for a PhD-course about "Media, Internet and democracy", especially discussing the political economy of communication (September 3-5). He will give a public lecture September 11 at 3 pm (JMK-salen, Karlavägen 104, 4th floor): Can Democracy Survive the End of Journalism…. Or Will the Internet Set us Free?
Related link
http://www.communication.illinois.edu/people/rwmcches
Last updated: August 16, 2013
Page editor: Fredrik Mårtenson
Source: Department of Media Studies