Art meets fashion in Helsinki exhibition
The "Boutique Exhibition – where art meets fashion" at the Amos Anderson Art Museum in Helsinki opened a few days ago. Annamari Vänskä, researcher at the Centre for Fashion Studies, has curated the exhibition.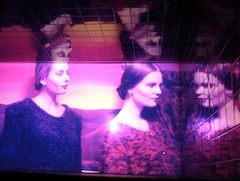 Paola Suhonen & Mikko Ijäs, The Land of the Seven Fairy Tales/Swimming Pool, 2012 © Amos Anderson Art Museum
After a request from the director of the Amos Anderson Art Museum Annamari Vänskä initiated the Boutique Exhibition project two years ago.
- The exhibition connects to my research especially through its interdisciplinary nature. I am an art historian turned to fashion researcher, and I am interested in the intersections between the two fields, Annamari Vänskä says.
Boutique is a part of the World Design Capital Helsinki 2012 official program and the visual art program of the Helsinki Festival. It is a wide-ranging multi-art form exhibition that fuses fashion with art.
Reminiscent of a department store of art with departments on different levels, Boutique is a total work of art with music and dance amply represented. Boutique has been created in the spirit of collaboration and community.
- What is special about the exhibition is that it brings together a fashion designer and an artist, who have realised a collaborative project to the exhibition. The works we see in the exhibition are something more than what one person could have done by himself/herself.
Five teams – each consisting of an artist and a designer – have created joint works of art. The teams are formed by: Paola Suhonen–Mikko Ijäs, Katja Tukiainen–Samu-Jussi Koski, Tero Puha–Teemu Muurimäki, Salla Salin–Timo Rissanen and Minna Parikka–Jani Leinonen.
Cultural Dresscode - a sociological study of dress, by Heidi Lunabba and the artist duo Nutty Tarts (Tärähtäneet ämmät), and Boutique's signature images, paintings and photographs, by Rauha Mäkilä and photographer Juliana Harkki are on display.
A workshop for schools entitled Neutral encourages pupils to release their inner fashionista. The exhibition soundtrack has been compiled by Vellu "DJ Slow" Maurola from UMO Jazz orchestra's archived recordings.
A fashion magazine entitled Boutique has also been published. The dance installation un fit by Anna Mustonen & Co is also part of the exhibition. The Boutique Exhibition – where art meets fashion is open between August 17-November 12, 2012.
Svante Emanuelli
Last updated: August 22, 2012
Page editor: Svante Emanuelli
Source: Institutionen för mediestudier