Annamari Vänskä was appointed "Adjunct Professor of the Year"
When the University of Helsinki appointed qualified researchers to "Adjunct Professor of the Year" in january, they chose Annamari Vänskä, Associate Professor. Annamari works as a Post Doctoral Research Fellow at the Centre for Fashion Studies at Stockholm University.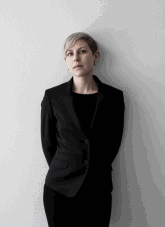 Annamari Vänska Foto: Juliana Harkki
On January 31st 2013, Annamari Vänskä was awarded for her research, teaching and contributions to the public debate. In the first round of nominations, she had first been appointed as the candidate for the Faculty of Humanities. She then went up against several qualified candidates from the Faculty of Medicine, the Faculty of Behavioural Science and the Faculty of Biological and Environmental Sciences. The Docent Association finally appointed her the winning candidate in conjunction with their annual meeting. On March 4th 2013, Annamari Vänskä gives her acceptance speech at the University of Helsinki.