Welcome to the Global Fashion Conference, October 20 – 21
EVENT
Date:
20 October 2016, 9.30 AM
-
20 October 2016, 12.30 PM
Venue:
Aula Magna Oct 20-21
October 20 – 21 Centre for Fashion Studies at Stockholm University has the honour of hosting the Global Fashion Conference 2016, themed Tradition and Innovation: Challenges for Fashion and Luxury in the 21st Century. The conference is hosted in collaboration with Institut Français de la Mode in Paris and Fast Forward Innovation, Portugal.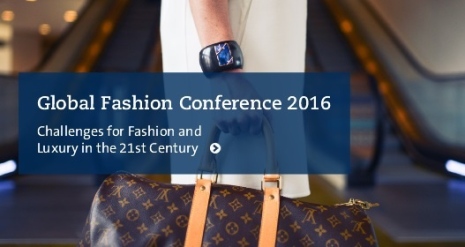 The conference will provide an international discussion forum for academics and practitioners on the topics of fashion, luxury, sustainability, technology and Stockholm as the Nordic fashion capital.
GFC 2016 spans two full days, and the morning of both days are open to the public.

When: October 20 – 21 2016, 09.30 – 12.30 both days.
Where: Aula Magna, map and directions may be found here: http://www.su.se/english/about/campus/architecture/buildings/aula-magna-1.160943
The open lectures are free of charge. Registration is mandatory. Register before October 14 here: https://simplesignup.se/private_event/83320/d945044b94
Program, October 20:
09.30 – 09.45 Welcome
Karin Helander, deputy vice chancellor, Stockholm University
Paula von Wachenfeldt, Centre for Fashion Studies
09.45 – 11.00 Panel 1: Luxury and Fashion
David Zajtmann, Institut Français de la Mode: "The relationship between couture and ready-to-wear."
Delphine Bellini, CEO, Elsa Schiaparelli: "How the Elsa Schiaparelli brand is planning its future, based on heritage."
Chair: Dominique Jacomet, Institut Français de la Mode
11.20 – 12.30 Panel 2: Luxury, Fashion & Technology
John Armitage, Winchester School of Arts, University of Southampton: " "Unboxing Reveals" as a New Form of video Art"
Charlie Andersson, Head of PR and Marketing of Image Group AB (Bottega Veneta, Mulberry, Max Mara and NK Access), Stockholm: "The recent evolution of the Swedish luxury market."
Chair: Isabel Cantista, Universidade Lusíada do Porto
Program, October 21:
09.30 – 09.45 Rounding up day 1
09.45 – 11.00 Panel 3: Luxury, Fashion and Sustainability
Dylis Williams, Director Centre for Sustainable Fashion, London College of Fashion, University of the Arts
Cecilia Strömblad Brännsten, sustainability expert, Global project manager recycling, Hennes & Mauritz
Chair: Teresa Sádaba – ISEM Fashion School, Madrid
11.15 – 12.30 Debate: Stockholm: The Nordic Fashion Tech Capital
Oskar Juhlin, Oskar Juhlin is Professor in the Department of Computer and Systems Sciences, founder of digitizingfashion.com and two companies combining social media and fashion
Elin Frändberg, CEO of the Swedish Fashion Council
Johanna Pietsch, CEO of Engelbert Jewel Company
Elin Larsson, Sustainability Director, Filippa K

Chair: Centre for Fashion Studies, Stockholm University
Further information at: http://gfc-conference.eu
Last updated: October 7, 2016
Page editor: Henrik Schröder
Source: Institutionen för mediestudier