POSTPONED: Final Seminar | Capturing spaces of migration | JMK Higher Seminar
EVENT
Date:
16 December 2020, 1.00 PM
-
16 December 2020, 4.00 PM
Venue:
Sal 1, 4th floor, Karlavägen 104
The final seminar of Rebecca Bengtsson Lundin, PhD Student, Stockholm University on 'Capturing spaces of migration: A study on photojournalism through a lens of practice' that was scheduled to take place on December 16, 2020 has been postponed to the spring 2021. New date yet to be announced.
Opponent: Tina Askanius, Senior lecturer, Malmö University.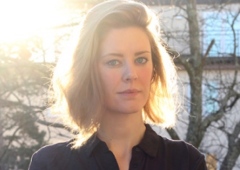 Background
In 2015, the plights of millions of people fleeing war and violence, primarily from Syria, came into focus and was quickly labelled as a crisis in news media and more widely in public and political discourse. As people seeking refuge arrived on the shores of Europe and photographs of refugees were published in the news, it became known as "the refugee crisis", and in this "process of appearances, the European gaze became fixed on the Others" (Carastathis & Tsilimpounidi, 2020, p. 41).
The so-called crisis was initially presented as a humanitarian crisis, managed by individual states and by the EU through different institutions such as Frontex, Europol, and by the UN primarily through the UNHCR, as well as other NGOs and solidarity movements working together either on the sea, on the shores of arrivals in Europe, or organising in European "cities of arrival". Later, the focus shifted toward protecting national and European borders. Photographs published in the news were often the first, if not the only, time that the Swedish public came in contact with people fleeing war and violence in search of refuge. I suggest that the so-called refugee crisis that started in 2015 was heavily managed by photographs and that photojournalistic practice, then, played a hefty role in how the crisis and people seeking refuge appeared, was seen, and consequently, also how the crisis was felt. What is made visible, or not, undoubtedly play a key role in informing collective ways of knowing and understanding the world. As a result, this determines not only which, but how, photographs are produced and circulated, and therefore the conditions of how and when refugees are visible (Wenk & Krebs, 2007) and how they appear to the public through photographs.
Drawing on Hannah Arendt, I explore appearance, both of photojournalists appearing in refugee spaces, and people who are also in the process of moving in and through these spaces by force, to understand how photojournalism was practised.

Please mail us for further queries about the JMK Higher Seminar.

More upcoming events